Further administrative curbs likely in property market, bank lending
BEIJING: Real estate prices in February rose at the fastest pace in almost two years, adding urgency to the government's efforts to rein in speculation and increase the amount of affordable housing.
Prices in 70 major cities rose 10.7 percent year-on-year in February, the National Bureau of Statistics said on Wednesday.
"Despite the government's tightening policies, it will take some time for the sizzling property sector to cool down, as developers are still awash with cash from last year's sales boom," said Qin Xiaomei, chief researcher with property firm Jones Lang LaSalle Beijing.
Officials are trying to reduce the risk of asset bubbles, resurgent inflation and bad loans for banks after flooding the world's fastest-growing economy with cash to drive a recovery. Premier Wen Jiabao warned of "latent risk" in banks and pledged to crack down on property speculation in a speech to the country's annual parliamentary meeting in Beijing last week.
The latest numbers "imply that there may be more upward pressure on inflation from the housing component," said Dariusz Kowalczyk, chief investment strategist at SJS Markets Ltd in Hong Kong.
"Social consequences will be negative, making it more likely that policymakers will introduce further administrative curbs in the real-estate market and in lending overall."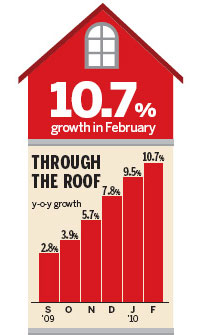 To cool speculation, the government in January re-imposed a tax on homes sold within five years of their purchase, after having cut the taxable period to two years in January 2009 to bolster a then-flagging market.
But run-away prices appear to be gradually losing momentum. Though the year-on-year growth rate in February is 1.2 percentage points higher than January, the month-on-month increase is down 0.4 percentage points, according to the NBS.
"We will not judge the trend by purely looking at the property price," said Grant Ji, director of Savills (Beijing), a UK-based real estate service provider. "The falling property sales in February, in fact, are an important indicator of market adjustment."
Shenzhen-based China Vanke Co, the country's biggest developer by market value, said on March 4 that February property sales fell 35.4 percent to 2.51 billion yuan ($368 million) from a year earlier, the company's first sales decline since March 2008.
Guangzhou R&F Properties Co, the biggest developer in the city, said contracted sales fell 11 percent last month from a year earlier.
The sluggish transactions continued in March as customers take a wait-and-see attitude. Meanwhile, prices in some key cities also dropped. According to Shenzhen-based World Union, a real estate brokerage firm, the average price for new apartments in Shenzhen in the first week of March fell 14 percent month-on-month to 18,266 yuan per sq m, and in Shanghai the price dropped 10 percent to 18,549 yuan per sq m.
"Unless it is an ideal apartment at a reasonable price, I will not buy a home at the moment," said Li Yan, a Beijing-based company executive. "Given the central government's resolve to curb property prices, I don't believe they will climb like last year."
Bei Fu, associate director of corporate ratings at Standard & Poor's, said: "Prices are likely to fall from mid-2010 as slower demand, higher supply and various government initiatives dampen market sentiment. However, we do not expect developers to find 2010 as severe as the downturn in 2008 or as volatile as 2009."
Bloomberg contributed to the story