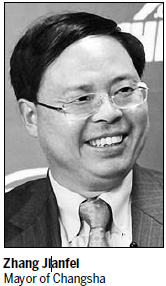 BEIJING: As a renowned expert on traffic management, Zhang Jianfei is an unusual choice for a local government head.
But the 48-year-old mayor of Changsha, capital of Hunan province, knows exactly how to make economic progress benefit the people.
"The top concerns for Changsha residents this year are housing, employment and social welfare. Therefore, public livelihood should be where our work starts and ends," Zhang said in an interview with China Daily.
Curbing rising housing prices across the nation has been in the spotlight during the ongoing annual session of the National People's Congress, in which Zhang is attending as a national legislator from Hunan.
"Everyone dreams of owning a house. When the pace of rising home prices far exceeds the growth of people's incomes, the housing problem becomes even more striking," Zhang said.
At present, the average housing price in Changsha is 4,100 yuan ($600) per square meter, which is relatively low compared with other cities of similar size across the nation, he said.
In 2008, the city, home to about 6.6 million people, initiated a program to "let every household own one house in the next three to five years". The local government earmarked 1.16 billion yuan to provide subsidies for about 20,000 households to buy affordable homes and arranged 7,100 low-rent houses for low-income people last year, Zhang said.
"Frankly speaking, there are still many difficulties on the road ahead to fulfill the goal by 2012, but we will definitely try our best," Zhang said, pledging to increase land and the housing supply to meet people's needs this year.
As an engineering doctorate from the University of California and a traffic management expert at the World Bank in early 1990s, Zhang said becoming a mayor was never his dream.
"Being a mayor was a radical change in my life. I used to focus on my major, but now, as a mayor, I have to keep a close eye on everything related to people's livelihood, such as public infrastructure, employment and food prices," he said.
Zhang said the city, located in the central part of southern China, is prepared to receive industrial transfers from the coastal region and is likely to be built into a regional consumption center, which is in line with the country's drive to restructure the economic growth model.
A high-speed railway network already closely links Changsha closely with the Pearl River and Yangtze River deltas, the two most vibrant and prosperous urban clusters in the country.
Intra-province railways and highways will also bring more people to the provincial capital, which will spur further consumption in the city, Zhang said.
"There are 200 million people living within a radius of 500 kilometer from Changsha," he said. "If one in 10 of them comes to spend money in Changsha, it will help creat a huge consumption market."