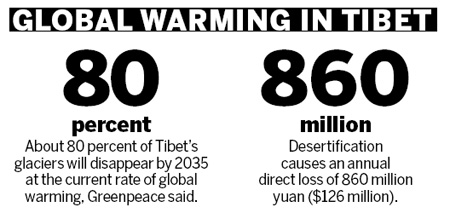 LHASA: The impact of global warming is affecting the ecological environment of Southwest China's Tibet autonomous region, accelerating glacial shrinkage, reducing snow and increasing land desertification, officials said.
"Global climate change has made Tibet's environment much more fragile than before," Hao Peng, vice-chairman of the Tibet autonomous regional government, told China Daily on Tuesday.
Related readings:


 Climate change may extend allergy season


 China needs more hydropower projects to fight climate change: lawmaker


 Tackling climate change 'urgent,' Hu says


 Climate change, not global warming


 China to tackle climate change challenges to agriculture
"Economic and social development is out of the question for Tibet if we do not have a pleasant ecological environment."
The autonomous region, located on the Qinghai-Tibet plateau, with an average altitude above 4,000 meters, is more sensitive to temperature changes than other places, as greenhouse gas tends to affect higher altitudes, he said.
The average temperature in Tibet has risen by 0.32 degrees centigrade every decade since 1961, quicker than the national and global warming rates, according to the China Meteorological Administration.
"Given its underdeveloped industry, Tibet's own carbon emissions are very low and the deteriorating environment is mainly due to global climate change," Hao said.
The central and local governments have been more focused on environmental protection and sustainable development in Tibet in recent years.
The local government has limited the development of steel, paper, chemical and other heavy polluting industries in Tibet.
Since 2001, it has shut down nine cement plants, seven steel mills and four paper mills, said Zhang Yongze, director of the autonomous regional environment protection bureau.
"In order to protect the fragile environment, we would rather sacrifice some economic benefit," he said.
The local government banned gold mining in 2006, despite the price of gold hitting 200 yuan ($30) per gram.
The area of shelter-forest, which plays an important role in ecological protection, extends from Lhasa to Xigaze and Shannan prefectures, and has reduced the annual days of sand storms by 30, compared to 30 years ago.
To protect the ecological environment in Tibet, the central government allocated 8 billion yuan between 2001 and 2009. It will allocate 15 billion yuan to an ecological protection plan involving a series of projects like soil and water loss control, desertification control, pasture protection, and tree planting by 2030, so as to make Tibet a "protective screen" for regional ecological security, Zhang said.
The officials made the remarks during ongoing group interviews with nearly 20 domestic and foreign journalists on a trip to the autonomous region.
Organized by the State Council Information Office, the interviews focus on the livelihood of Tibetan farmers and herdsmen, environmental protection and the development of folk culture.