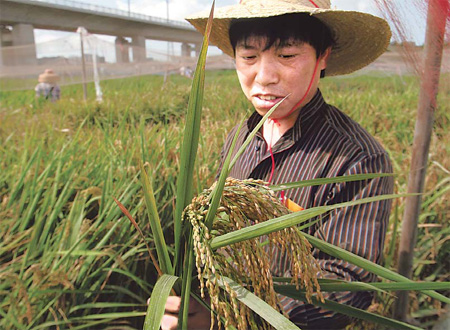 A farm technician works at a GM rice test fi eld in Sanya, Hainan province.[Shi Yan,For China Daily]
No consensus on safety concerns, as govt approves limited production
BEIJING: Debate over the safety of genetically-modified (GM) food continues in China, as the government steps up its efforts to develop GM crops to ensure grain security.
Related readings:


 titleGovt 'has an open mind' on GM food


 titleGreenpeace calls for Australian review on GM food


 titleExperts: GM food unsafe? No evidence yet


 titleNew drive to fight world hunger with GM crops

Supporters and opponents are stoking the debate after the Ministry of Agriculture granted safety certificates for the domestic production of two types of GM paddy rice and one type of GM corn.
With the country facing increasing pressure to feed its population of 1.3 billion, the government hopes disease-resistant crops will help address the growing problem of food shortages.
Chinese scientists have said GM rice and maize are as safe as non-GM varieties and pledged to expand their production.
GM maize and soybeans are already widely consumed in China, as well as in the United States.
The commercialization of GM rice may be approved within the next three to four years, according to agricultural experts.
Xue Dayuan, a specialist on biodiversity at the Nanjing Research Institute of Environmental Sciences, said he is worried about the safety hazards posed by the commercialization of GM rice to the health of consumers and the environment.
"I don't object to the commercialization of GM rice, but I'm concerned about its risks," he was quoted as saying by the Xinhua News Agency.
He stressed that the country should be prudent over commercializing GM rice, since it would be the first country in the world to do so.
"If the world has not reached a consensus on GM food safety, it would be too proactive and risky to commercialize GM crops on a large scale," Zheng Fengtian, vice-dean of the Rural and Agricultural Development Institute at Renmin University of China, was quoted by Xinhua as saying.
A recent survey conducted by China Daily and sohu.com suggested that more than 85 percent of respondents were worried about the potential health hazards of GM food.
However, supporters of GM crops have argued there is no evidence that GM crops pose safety risks to either people or the environment.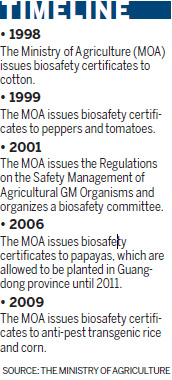 Wu Yongning, a food safety specialist with the Chinese Center for Disease Control and Prevention, said current studies have not proven GM food is harmful to consumers' health.
According to Wu, genetically-modified food has to pass rigorous tests before it is allowed onto supermarket shelves, including laboratory and field studies, toxicity and allergy tests.
Health administrators will also establish a system to monitor and report any adverse effects, he said.
"I am not ruling out all possible risks, but the risks of GM food are no greater than those of traditional ones, given the heavy use of pesticide in growing traditional food," he added.
The State Council, China's Cabinet, introduced a regulation in 2001 to ensure the safety of GM food, with strict provisions on its research, testing, production and marketing.
Huang Dafang, director of the Biotechnology Research Institute at the Chinese Academy of Agricultural Sciences, said that since GM food is less vulnerable to insects and diseases, fewer pesticides are needed to grow them, which is safer for consumers and the environment.
According to the International Service for the Acquisition of Agri-biotech Application, the expansion of GM planting from 1996 to 2006 saved 224,000 tons of pesticides from being sprayed onto crops.
In cutting down on the work required to spray crops, GM food has the potential to ease the labor shortage in China's countryside, which has resulted from an increasingly large population of migrant workers, Huang said.
Xinhua and China Daily