Grieving parents who lost children in quake start anew by giving birth again. Guo Shuhan and Erik Nilsson report.
Liu Li's 5-month-old daughter has been the rebirth of hope for her family.
The 42-year-old resident of Dujiangyan, Sichuan province, is among thousands of women having second children after losing their first in the 2008 magnitude-8.0 earthquake.
Bringing new babies into the world is helping families cope with their older children's deaths by offering a second chance at parenthood.
"Without a child, our family isn't complete," Liu said.
"We were so close-knit that our daughter's schoolmates envied her."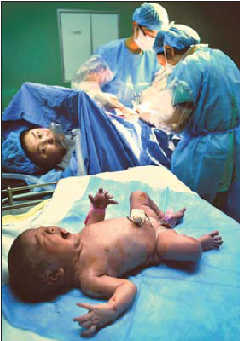 Wang Xiaoqin, 37, gave birth to a daughter by caesarean section at the No 404 Hospital in Mianyang on Dec 4, 2009. Wang's 10-year-old daughter died when her school in Beichuan collapsed. 
Of the about 70,000 people who died in the disaster, 5,335 were schoolchildren, according to the Sichuan education bureau.
While not providing specific figures, the provincial family planning office said thousands of these couples intend to have another baby after losing their first. The office said 757 of these women became pregnant by the end of 2008.
Psychologist Liu Meng told China Daily last May that about half of the 200 mothers who received counseling at his Mothers' Home volunteer center in Dujiangyan were with child.
Liu did not leave the house for a week after 15-year-old Hu Huishan died in the collapse of Juyuan Middle School. She spent days staring at her daughter's photograph.
"Shanshan (Huishan's nickname) lives as an orphan in heaven," she said, choking back tears. "I thought about building a small house beside her grave to keep her company."
Hu Hui'en's birth has helped Liu deal with Huishan's death, partly because she believes her second daughter is the reincarnation of her first.
"There's a strong resemblance," she said. "We even considered naming Hui'en after Huishan, but realized it wasn't fair to either girl."
Dujiangyan residents Gong Xiaoli and Yan Wenxue said the birth of their 9-month-old boy Yan Zihao is the brightest ray of hope in their otherwise gloomy lives.
The couple said their wounds have deepened, rather than healed, since their 10-year-old boy Yan Zhuoxin was buried in the rubble of Xinjian Primary School.