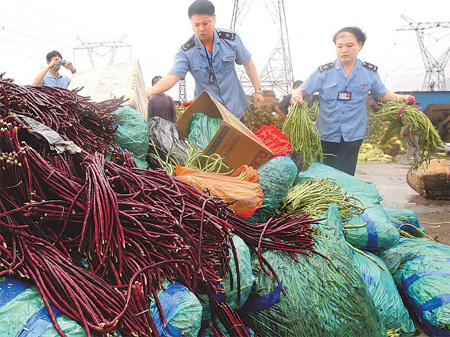 Officers destroy 7.5 tons of cowpeas from Hainan province that contain toxic pesticide in Dongguan, Guangdong province, Sunday.[Provided to China Daily] 
Hainan toxic cowpea case exposes problems with management rules
BEIJING: A highly toxic pesticide that had been banned but was found in tons of cowpeas from South China's Hainan province is still on sale on the island, exposing loopholes in pesticide management regulations.
As of Monday, isocarbophos - a highly toxic pesticide banned from use on fruits, tea, tobacco, vegetables and herbal plants - was detected on Hainan-grown cowpeas sold in several provinces across the country, including Hubei, Guangdong, Anhui and Jiangsu.
Wuhan 'not enough of a friend': official The local agricultural department in southernmost Hainan province has blamed its counterpart in Wuhan, capital of Central China's Hubei province, for breaking an unspoken rule by letting the public know about toxic cowpeas.
While isocarbophos was banned in Hainan in 2004, it has still been found on sale in some remote regions in the province, China National Radio reported on Monday.
Some insiders in Sanya said dealers would only sell the pesticide to acquaintances to avoid risks. Two bottles of isocarbophos cost 18 yuan ($2.60), while legal pesticides of the same effects cost 50 yuan, the report said.
"Due to the lack of effective supervision of pesticide sales, farmers can still get the banned ones fairly easily, which they prefer for their low prices," Sun Shubao, secretary-general of China Crop Protection Industry Association, told China Daily on Monday.
China's current regulation on the management of pesticides, issued in 1997, primarily focuses on the supervision of pesticides production. It does not address their sale and use, he said.
As a result, Sun said authorities are now considering revising the regulation.
According to Sun, many countries outside China strictly control the sale and use of highly-toxic pesticides.
"Specific details, such as the buyer's name and the amount of pesticides purchased, should be recorded and any pesticides above the buyer's requirements should be returned to the dealer," he said.
Related readings:


 China to cut pesticide companies by 30% to reduce pollution


 Pesticide linked to leukemia


 China phases out pesticide POPs


 Mainland destroys pesticide-tainted Taiwan oranges
Current tests on pesticides in farm products are also weak in the country, said Sang Liwei, a food safety expert in Beijing.
"The tests are not compulsory. Farm products just go through some sample tests before entering local markets," Sang told China Daily on Monday.
"A test costs up to 3,000 yuan and the process takes two days. Without enough funding, it is impossible to carry out such tests on a large scale," Sang said.