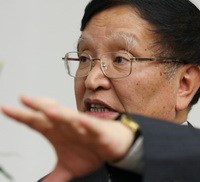 Zhang Guobao forecasts a boom in the building of renewable energy infrastructure.[CHINA DAILY] 
BEIJING: The government has formulated a 10-year program under which clean energy will account for 15 percent of the total consumption mix by 2020, a top official has revealed.
To realize the goal, the government will invest billions in the construction of nuclear power stations, wind farms, solar power plants and research of renewable energy technologies, said Zhang Guobao, head of the National Energy Administration.
Zhang told China Daily that the program will soon be made public but did not specify a date.
He also said the National Energy Commission, the apex body set up in January to coordinate energy policy and headed by Premier Wen Jiabao, will hold its first meeting soon.
Zhang forecast a boom in the building of renewable energy infrastructure in the coming five years to meet the goal, which Wen pledged to global leaders at the Copenhagen climate change summit in December. The premier also pledged that the country will reduce its carbon intensity by 40-45 percent by 2020 from 2005 levels.
"Power projects take a long time to be up and running, and we are basically allowed five years to complete them although it is a 10-year program," said Zhang. "Otherwise, the facilities cannot be put into use by 2020."
Related readings:


 China's green energy goes to waste in distribution bottleneck


 China mulls green energy purchases by grid operators


 Cleaning up on green energy investment


 China paving the way in green energy


 Green energy generator to expand production
Official figures show that renewable energy accounted for 9.9 percent of total energy consumption last year, compared to 8.5 percent in 2008. Amid the global financial crisis, the government has decided to develop renewable energy as part of a stimulus package to keep the economy on the fast track.
Last year, groups of researchers, scientists and officials drafted the program under the supervision of Wen and Vice-Premier Li Keqiang.
The National People's Congress, the top legislature, recently passed an amendment to the renewable energy law to require power grid companies to buy all the electricity produced by renewable energy generators.
All these efforts reflect the strategic importance of the renewable energy industry, said Zhang, adding the policy will offer more opportunities for global partners.