Farmers find their opinions matter in an experiment on grassroots decision-making. Hu Yinan reports from Dengzhou, Henan.
Zhang Hongde and his family had only just relocated from their home of 35 years to another part of Heilong village when officials revealed plans to build roads to "every doorstep". It was going to cost each household 160 yuan ($25) - a lot of money for a family which relies on a good harvest for income.
In most places with a population of more than 2,000, a handful of voices against such a proposal may have gone unheard. Not in Heilong, where residents have been given a far greater say on village affairs thanks to historic measures rolled out in rural areas across Dengzhou county, Henan province.
It meant Zhang and a dozen others were able to veto the project during a villagers' meeting. Instead, only residents who directly benefited from the new roads had to pay.
"For the first time, our opinions mattered," said the 60-year-old, who heads a family of 10, including several grandchildren.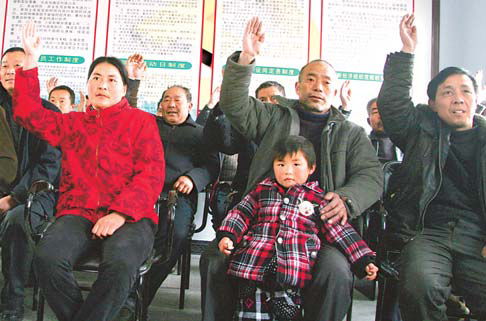 Villagers in Heilong village of Dengzhou county, Henan, vote in favor of pesticide usage in late February. Any major decisions on village aff airs have to be approved by villagers. [Feng Yongbin/China Daily] 
The democratic experiment in Dengzhou, a large farming area in China's most populous province, symbolizes both the spontaneous grassroots efforts to boost democracy in the countryside and the challenges they face.
The groundbreaking measures, which have been in place since 2005, are the brainchild of Liu Chaorui, the county's Party chief, and are based on the belief that consensus - the basis of stability - can only be achieved through compromise.
With a series of amendments over the last five years, the system offers detailed procedures to formalize the approval of important rural matters.
Proposals relating to a village must now go through four "readings", each involving more local residents and representatives, and Communist Party of China (CPC) members. Plans are not usually rejected until the third reading; and are not approved until they pass the fourth, which is attended by 50 to 70 representatives and is the stage where most debate takes place.
Dengzhou officials say the measures have helped revitalize the Party's grassroots organizations, deepen rural democracy and enhance social stability.
Vice-President Xi Jinping and Vice-Premier Hui Liangyu have hailed the "innovative experiment", while a document jointly issued by the Central Committee of the CPC and the State Council in January encouraged all villages to learn from the measures.
Chen Xiwen, deputy director of the Central Rural Work Leading Group, said the measures are an active response to the government's call for vibrant mechanisms of rural autonomy under village branches of the CPC.
State leaders hope experiments like this will further democracy in the countryside, where already more than 2.3 million rural residents have been elected to 604,000 village committees since 1988.