Family cries foul after finding victim's body bruised, mutilated
Police said that a man detained for suspected theft died suddenly during an interrogation in Henan province, but when his family later found his body bruised and mutilated, speculation arose about police brutality.
Related readings:


 Man died 'drinking hot water' in detention


 Inmate dies after hunger strike


 Another inmate dies mysteriously


 Autopsy-turvy: Danfeng inmate, 19, died of 'natural causes'


 China releases new rules for detention centers


 Latest detention death sparks questions
Wang Yahui, 28, from Lushan county of Henan, was detained by local police on Feb 18, but was pronounced dead three days later, Henan TV reported.
Police of Lushan county public security bureau said that Wang died of an acute disease during the interrogation that started at 3 pm on Feb 21.
A police officer surnamed Yao with the bureau said Wang was thirsty during the interrogation and a police officer gave him a cup of boiled water.
The water was too hot to drink, so another officer who was then drinking an infusion for the treatment of colds and fever poured some of his medicine into Wang's cup, in order to make the water temperature suitable for drinking, he said.
However, Wang suddenly felt abdominal pain after drinking the water. He was soon sent to hospital, but died later, Yao said.
The family, who were allowed to see Wang's body on Feb 22, did not believe the police explanation at all.
Wang's aunt surnamed Wu, who accompanied Wang's mother to the hospital mortuary that day, said they were shocked by the bruises all over Wang's body.
A video shot by his family showed that both Wang's nipples were sliced off. Bruises and wounds were also found on his arms, head and genitals.
Local police, including Yao, were unable to give explanations for the bruises.
Chief of the county public security bureau surnamed Li admitted to Henan TV that police officers "might have committed occupational offenses" in the case, indicating possible police brutality during the interrogation to gain a confession.
Four police officers who interrogated Wang have been confined for further investigation, he said.
"If they are found to have committed occupational offenses, we will deal with it seriously," Li said.
A string of high-profile unnatural deaths last year at detention houses across China have raised doubts about the system.
A typical case happened on March 8, when Xu Gengrong, a 19-year-old student, died during his detention in Shaanxi province, where he was held on suspicion of stoning a schoolmate to death.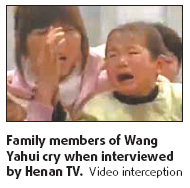 Earlier reports said four police officers tortured Xu by not letting him drink or eat and having his hands cuffed behind his back for long periods of time, which finally triggered primary cardiac myopathy.
The series of deaths in custody is threatening the removal of police control over detention centers.
The Ministry of Public Security said that preventing the unnatural deaths of inmates in detention houses is a priority for the police this year.
China Daily