Economic recovery led to rise in demand, say industry observers
China's January crude oil imports rose 33 percent from a year earlier as economic recovery bolstered demand for fuels.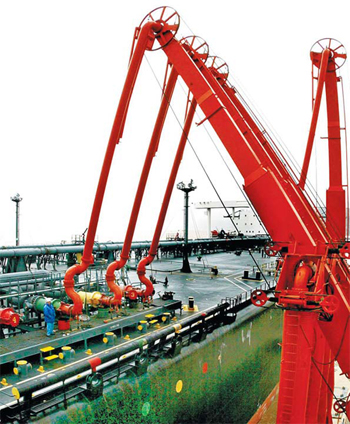 An oil tanker unloads crude oil at Ningbo Port. The nation's crude imports are likely to rise 9.1 percent this year. [Zhang Heping]
The country, which is the world's second largest oil consumer, imported 17.11 million tons of crude last month, the General Administration of Customs said on its website. The country imported 21.26 million tons of crude in December last year, up 47.9 percent year-on-year.
China imported 2.54 million tons of refined oil in January and exported 2.7 million tons, according to the customs data.
Economic recovery is the main reason for the rapid growth, said Huang Xiaoyong, director of the International Energy Security Research Center under the Chinese Academy of Social Sciences (CASS). "The solid rebound in the economy has spurred the demand for refined oil, thus pushing up crude imports."
Imports to rise 9.1%
The country's crude imports are likely to go up 9.1 percent this year, according to a report released by the Research Institute of Economics and Technology at China National Petroleum Corp (CNPC) in February.
"The stockpiles of domestic refiners are high because of the large amount of imports last December, so it is natural to see some decline in January imports," said Gong Jinshuang, a researcher with the institute.
Because of less agricultural and construction activity in the first quarter, the demand for refined oil would be lower, he added.
A monthly Reuters poll found 12 top Chinese refineries planned to process at a record 2.88 million barrels per day (bpd) of crude last month, spurred by a double-digit rally in the Chinese economy in the fourth quarter and the blistering pace of vehicle sales.
The start-up of a new 200,000 bpd refinery in the northern city of Tianjin in December contributed to the stronger January runs as compared with a year earlier. These are poised to extend into coming months because a total of 500,000 bpd in new crude processing capacity is due on line this year.
Analysts said it was inevitable for China to see a gradual increase in oil imports in the long term because domestic output could not keep pace with surging demand.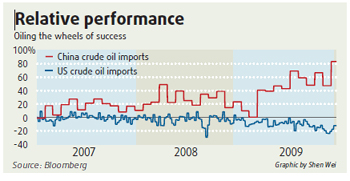 Industrialization and urbanization are two major forces driving up the country's demand for oil, they said. China has seen accelerated development of the auto industry recently, which would further boost the demand for fuel.
China first became a net oil importer in 1993. The country's oil imports surpassed 100 million tons in 2004.
According to a report by CASS last year, 64.5 percent of China's oil consumption is likely to be met by imports in 2020, due to the gap in domestic consumption and production.
Statistics from CASS show that China's oil production is expected to be between 177 and 198 million tons in 2010, and reach 182 to 200 million tons by 2015.
Oil output is expected to see a gradual decline after 2020, according to CASS.
Analysts said that the nation should diversify its oil import sources and develop sustainable supplies. At present the Middle East, Africa and Asia Pacific are three main regions from which China imports oil.
Customs figures showed that last year Saudi Arabia, Angola, and Iran ranked as the top three countries from which China imported crude oil.