Can a duty-free Hainan Island threaten Hong Kong's status as mainlanders' favorite shopping destination. Timothy Chui reports from Hong Kong
For many Chinese mainlanders, Hong Kong is a shopping paradise. Its streets are lined with big-name brand outlets and small, independent stores all offering quality goods at bargain prices. But experts predict the city's status as the country's No 1 shopping destination could soon come under threat - from Hainan Island.
Already popular for its picturesque mountain landscapes, tropical temperatures and golden beaches, this sleepy province is to establish several "duty-free zones" aimed at luring more tourists, including those who traditionally head to Hong Kong.
The State Council announced the move along with an initiative for "gaming zones" in January as part of a renewed effort to push the island to the forefront of the global tourism scene over the next decade.
"The strategy marks a new era. It will bring more investment to the island," said Zhang Qi, director of the provincial tourism bureau, who cited the success of duty-free shopping in Singapore, Bali and Hong Kong.
The shopping zones will be in the capital Haikou, as well as Sanya, Qionghai and Wanning, said Wei Liucheng, Hainan Party chief. Although Wei, would not reveal the exact locations for the zones, he said the project was well into the planning stage.
What Hong Kong has to offer
Restaurants and nightlife

Every school of Chinese cooking is available, but the local style is mainly Cantonese cuisine. The city's famous restaurant and bar quarter is in Central. With more than 100 venues lining cobbled streets, it is the premier place for parties. Most of the action is centered in the rectangle formed by the L-shaped Lan Kwai Fong and the parallel D'Aguilar Street.

Horse racing

Since December 1946, horse racing has been one of the city's most popular attractions. Whether you are looking for a day out or want to enjoy some heart-stopping action courtesy of the Hong Kong Jockey Club, the Sha Tin or Happy Valley Racecourse is the place to go.

Disneyland and Ocean Park

Disneyland features popular rides and adventures, while it takes an entire day to see all the features at Ocean Park.

Victoria Peak

Victoria Peak, pictured above, gives a full 360-degree view of Hong Kong. From the famous Victoria Harbor to the Kowloon Skylines, this view never fails to deliver.

Avenue of Stars

On Tsim Sha Tsui promenade, the street pays tribute to a rich cinematic tradition.

Natural wonders

Wetland Park is a wetland reserve northeast of Tin Shui Wai in the New Territories that covers 60 hectares, while Tai Tam Hong Kong Park and the Dragons Back Hiking Tour, are good rambling routes.

Outlaying islands

Lamma Island is peaceful and full of extraordinary people. It is a short ferry ride from Central and famous for its seafood. The tranquil and green Lantau Island makes it a popular spot for nature lovers and hikers. 
Hainan, once a sleepy island in the South China Sea, attracted 22.5 million tourists last year to its five-star hotels and golf links, a 9-percent increase on 2008. Visitors are predominantly Russian, Korean and Japanese. Many local officials and consumer experts have welcomed the duty-free move.
"Duty-free shopping is a great way to stimulate visitors' spending and is what the island needs to put it alongside its potential international peers," said Ricardo Siu, associate professor of economics and international finance at the University of Macao. "It will definitely help the island in its aim to become a world-class destination."
DFS Galleria, a Hong Kong-based luxury brand retailer, already has an outlet in the departure halls of Haikou Meilan International Airport. A spokesman for its parent company, Louis Vutton Moet Hennessy, which also owns such veritable brands as Dom Perignon, Fendi, TAG Heuer and Donna Karan, declined to comment on whether it planned to expand into any of Hainan's duty-free zones.
Gebr. Heinemann, a major international duty-free retailer based in Hamburg, Germany, is also staying tight lipped about any future plans for Hainan.
China Duty Free Group, however, was quick to take up the opportunity and opened an 8,000-sq-m outlet in Haikou shortly after the State Council announcement. The group, whose parent company Zhongmian Co is based on Hainan Island, sells leading Chinese and foreign brands, including fashion and perfume house Christian Dior and cut crystal glass specialists Swarovski.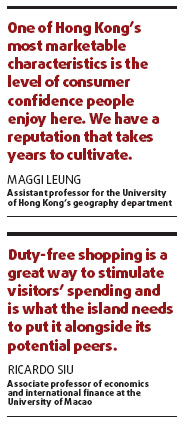 "Shopping on the island accounts for just 12 percent of all tourism income, compared to the domestic average of 21 percent and international average of 31 percent," said Antonio Hao, director of marketing for the China Duty Free Group.
China International Tourist Services will also open a 400,000-sq-m duty-free store by 2012 as part of its 30 billion yuan ($4.3 billion) investment plans, according to the provincial foreign affairs office.
Despite the moves, retailers and shoppers in Hong Kong yesterday said they expect the city to keep its crown as a shopping paradise for some time yet.
Like most years, the city is teeming with tourists looking for a pre-Spring Festival bargain, including many middle-class mainlanders. About 300,000 visitors crossed from the mainland to Hong Kong's Lo Wu checkpoint every day during last year's Lunar New Year holidays, according to the Immigration Department.
"We cater to mainlanders all year round but we get very busy during the Chinese holidays, such as golden week in October," said Bryan Mou, supervisor of the Central branch of jewelers Chow Sang Sang. "During Spring Festival customers come with the whole family."
Hong Kong already has duty-free outlets - although they cannot sell tobacco, beer and spirits - but visitors are also lured by its reputation for quality, culture and museums, as well as its Disneyland amusement park.
"When I buy something in Hong Kong it is virtually guaranteed authentic," said Peter Olaes, 71, from the Philippines. "The city's quality control efforts over the years have really paid off. I'm confident I won't be sold a fake."
Hong Kong's status as a shopping paradise also comes down to the full range of products and services it offers, as well as its festivals and culture, said a spokeswoman for the Hong Kong Tourism Board.
Hainan has several department stores, but some of the island's most distinctive retail offerings are like that of a banana republic. There are lots of local handicrafts, such as coconut shell carvings, seawater pearls and crystals, as well as Li ethnic textiles. Tropical fruit and nut stores are also scattered along Haixiu Avenue, the most bustling commercial street in Haikou.