Work to rebuild the counties destroyed by the Wenchuan earthquake is well under way but a survey shows trust in grassroots officials has declined. China Daily sent a team to Sichuan province to find out how things going on just before the Lunar New Year.
Video: Yu Chenkang

About the reporter:
Hu Yinan is a staff writer with China Daily's news center.
He has reported extensively on news events around the country, publishing various investigative stories independently conducted throughout townships and villages.
He can be reached at huyinan@chinadaily.com.cn.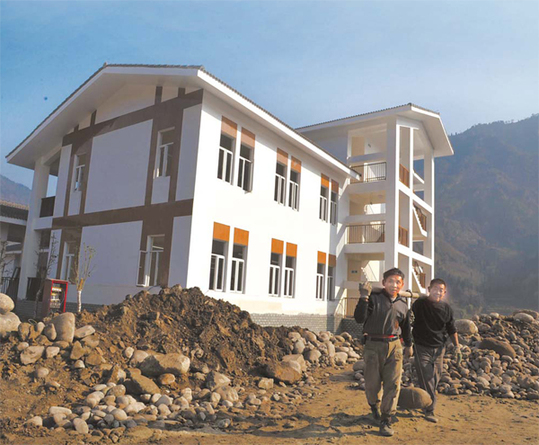 Workers toil on the construction site of a cultural center in Hongbai, Sichuan. More than 10 million yuan will be spent on building 13 centers. [Lu Peng] 
Standing among the broken bricks and glass of what was once his home, Shen Jibin's expression was one of fury and confusion when China Daily first met him shortly after the Sichuan earthquake.
The headmaster had been on a six-month exchange program in Zhejiang province when he heard of the disaster on May 12, 2008. He immediately rushed home to Beichuan - the county worst hit by the disaster - and discovered his life in ruins.
His daughter, Tingting, miraculously survived the collapse of Beichuan Middle School but Shen's wife of 16 years, Wang Xiuhong, was not so fortunate. She is among the 17,923 missing people the State Council's Earthquake Rescue and Relief Headquarters is expected to add to the official death toll of 69,227 by next May.
One of the most shocking things exposed by the disaster was the poor construction of school buildings. And while many survivors left or were relocated, Shen was asked to stay behind to be part of a team specifically set up by officials in Mianyang, Beichuan's administering city, to console the parents of students killed in the disaster.
Almost 21 months on, the three-year plan to rebuild areas ravaged by the 8-magnitude earthquake is well under way and, although most projects were started only after the first anniversary of the disaster last May, the rebuilding work is scheduled to be completed ahead of schedule on Sept 10.
The plan includes more than 1,200 townships in the provinces of Sichuan, Gansu and Shaanxi, covering an area of 132,596 sq km and a population of roughly 20 million, according to the State Council.
The direct economic cost of the disaster was more than 978 billion yuan ($143 billion), according to a research institute under the ministry of civil affairs, and, as part of the recovery plans, each county affected was twinned with one of 19 provinces or municipalities, which are required to donate at least 1 percent of their annual fiscal revenue towards reconstruction projects until next year.
Beichuan was twinned with Shandong province and, according to Shen, the quality of the reconstruction has overall been ensured by strict supervision.
"The goal immediately after the earthquake was to resume all classes by Aug 20 (2008), so a couple of teachers and I put everything in place and considered our mission accomplished by Aug 16," said Shen, 42, who is now deputy chief auditor of the county's education and sports bureau. "But the Shandong officials said the canteen, which we built with two makeshift houses, wasn't up to scratch. We couldn't resume classes unless it was right. It was a very big deal, so we pulled five all-nighters in a row to build the kitchen and canteen to make sure they were all in line with Shandong's standards."
Shandong is China's third largest provincial economy and its influence on Beichuan is obvious. Roads are wider, luxury stores sit beside dozens of massage and sauna centers, and local businesses are thriving thanks to consumers from across the country, particularly the north. Anchang, a town in nearby Anxian county where Beichuan's government agencies are temporarily based, is almost a carbon copy of Chinese cities along the nation's booming east coast.