Knockoff search engine shrugs off Google threat to sue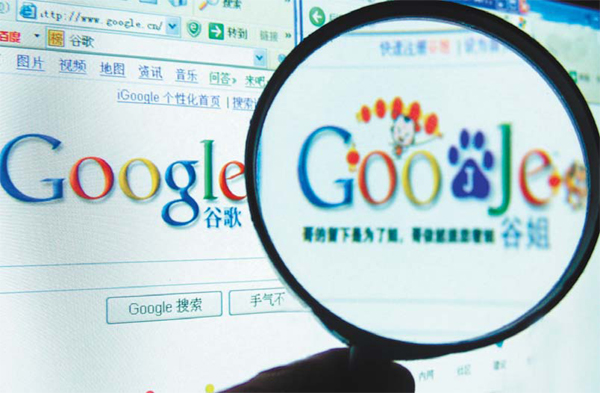 This photo reveals the uncanny resemblance between search engines Google.cn and Goojje.com. [Photo/Lu Jianshe] 
Goojje, the Chinese knockoff of Google Inc, "will not change" its design despite a threat from the US Internet company to sue it over copyright infringement, Huang Jiongxuan, the website's founder, said yesterday.
Goojje's logo resembles the logo of Google Inc and also bears a paw print sign like that of Baidu Inc, the biggest Internet search engine in China and Google Inc's archrival in the country.
The website's interface also imitates those adopted by Google Inc and Baidu Inc, but falls short of the copyright sign and a link indicating the website's license number issued by the Ministry of Industry and Information Technology.
Google has sent the operators of Goojje a cease and desist letter through a Beijing-based law firm, demanding that they stop copying Google's logo by Monday or the company will probably file a lawsuit against them.
Related readings:


 Disney, Google eye stake in China bus media firm


Google exit good for small players


Google urged to respect IPR


Google, don't be evil by leaving


Google case 'will not derail ties'


Google should not play with politics
Goojje, however, kept its logo and interface unchanged as of yesterday afternoon.
"The website is our team's achievement," Huang, the founder and team leader of Goojje, told China Daily over the phone. "It's impossible that we would close it down."
The team has invested less than 30,000 yuan ($4,400) for the website's set-up, said Huang.
The website has yet to return a profit and Huang is now relying on his family for a living.
But he shrugged off the threat from Google Inc.
"A lot of lawyers have offered to be our counsel for free, and we also have many supporters," he said.
Huang, 24, and seven other team members born in the 1980s, launched the website on Jan 14, a day after Google announced the company would quit the Chinese market.
These young men's overnight efforts have made a splash in China's cyber world, partly because of the breaking news of Google Inc's exit claims and the website's name -Goojje.
Its second syllable, "jje", is the same as the Chinese word "older sister", while that of Google, "gle", sounds like another Chinese word for "older brother".
The website is designed as a search engine, but experts said it produces search results by simply combining those of Google Inc and Baidu Inc, which means Goojje does not have its own search technology.
But it appears that fans of Goojje don't care much about the technologies behind the website, and they keep coming in throngs to use the search services there.
The website had an average page view of about 3 million in the first few days after the launch, said Huang. The number has fallen to only 2 million lately, which is still remarkable for any website in the early days since a launch.