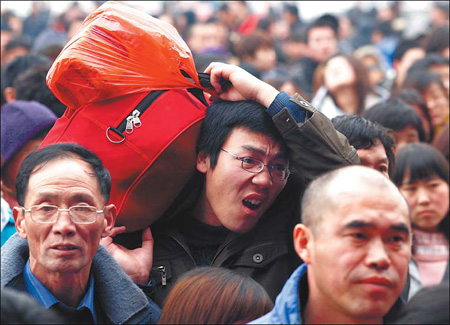 Travelers wait for their trains at Beijing Railway Station yesterday. The national railway network had transported 5.03 million passengers as of Saturday, the eighth day of the country's annual Spring Festival travel peak. [China Daily/Wang Jing]
GUANGZHOU: More than 10,000 passengers were finally able to take the high-speed train between Guangzhou and Wuhan on Saturday night after they were stranded at the Guangzhou south station for two hours because of an equipment error.
The error, which happened in Shaoguan, Guangdong province, on Saturday afternoon, delayed nine trains from Guangzhou south station, which went into operation late last month, along with the high-speed railway, which opened to traffic in December.
Some stranded passengers were directed to the arrival hall on the first floor, where no seating was installed.
There was also no toilet in the arrival hall, forcing people to wait in long queues in another hall.
They had to go to the third floor to buy food and drinks until station staff later offered free refreshments.
Police officers were sent to the station to help maintain order.
The station apologized to the affected passengers and offered to refund and exchange tickets for them.
It was the third time the high-speed train service between Guangzhou and Wuhan, Hubei province, had been delayed.
The first, which lasted for one hour, was caused by equipment error and the second, for three hours, by an alarm set off by the highly sensitive system in the train for smoking by passengers.
The 1,069-km Wuhan-Guangzhou railway, China's first long-distance high-speed line, is expected to carry more than 1.6 million passengers during the 40-day Spring Festival season, with 33 pairs of trains deployed a day, to help lessen the pressure on railway transport, Guangzhou Railway Group revealed last month.