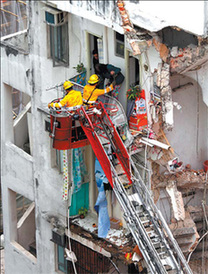 Firemen rescue residents from a five-story building that collapsed in Hong Kong, killing at least three people, on Friday. The building was about 50 years old. [Edmond Tang]
HONG KONG: Rescuers found one more body Saturday morning from the rubble of an apartment building that tumbled in Hong Kong on Friday, bringing the death toll to four.
The building collapse in Hung Hom, Kowloon, also left two others injured and one missing, according to the government website.
As of late Friday night, the Social Welfare Department (SWD) has reached 98 people from 44 households affected by the building collapse, providing those in need with emergency support and welfare services.
The Emergency Relief Support Unit of SWD has distributed food and daily necessities to the affected residents to address their emergency needs. The department will hand 5,000 HK dollars as emergency relief fund to each of the affected and needy households registered with the Government.