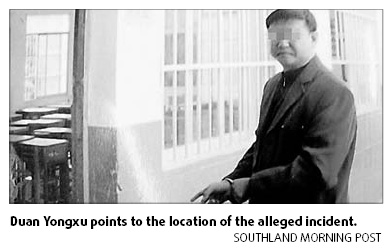 The headmaster of a private school for children of migrant workers in Guangxi Zhuang autonomous region has been arrested for hitting a teenage student who was involved in a scuffle with his classmates last November.
Authorities at the Zhuangxin School, in Xixiangtang district of Nanning, the regional capital, removed headmaster Duan Yongxu from his post amid an investigation into the allegations, a teacher surnamed Luo, told China Daily yesterday.
On Nov 27, Duan allegedly grabbed the 13-year-old boy by his shoulder, pushed him against a wall and kicked him, Xinhua News Agency reported on Monday.
Teachers took the boy to a hospital, where doctors detected a fracture in his arm.
The boy's parents reportedly asked Duan for 35,000 yuan ($5,100) in compensation, but the headmaster only agreed to 10,000 yuan.
Related readings:


 Chinese student gets court date for security breach


 100,000 electric eyes to watch college students


 Fifty students poisoned by wild fruits


 Donation to Yale sparks debate


 Educators suspended over freezing death of student
The district procuratorate subsequently approved Duan's arrest.
Zhuangxin School provides nine-year compulsory education, including elementary and junior high school classes. It has 26 teachers and about 800 students, most of whom are the children of migrant workers, Luo said.
The boy's parents, school officials, the city's education bureau and the district procuratorate could not be reached for comment yesterday.
According to Xinhua, the school's management is lax, and its teachers, a number of whom don't have a college degree, are underpaid.
Students often quit school in the middle of a semester because they have to travel with their parents, who keep moving in search of new work, Xinhua reported.
Nanning has 45 private primary schools and 47 private junior high schools, and the quality of education is poor, Xinhua quoted Nanning education bureau officials as saying.
Most migrant workers choose to send their children to private schools because the procedure is simple and the education costs are lower. If they want to send their kids to a public school, they have to prepare six types of documents that are hard to obtain, Xinhua reported.
In July 2008, a State Council meeting, presided over by Premier Wen Jiabao, urged for increased efforts to ensure that children of migrant workers receive proper schooling in cities, and are exempted from tuition and miscellaneous fees at public schools.
However, only a few cities have released detailed plans on achieving that goal.