Two school principals were suspended from duty after being held responsible for a student's death, suspected to have been caused by severe punishment.
Yang Guangsheng, principal of Wujing Junior Middle School in Linqu county of Shandong province, and vice-principal Wang Dongping, were relieved of their posts on Tuesday night for poor school management, local media reported yesterday.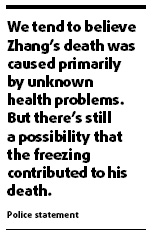 The suspension was based on the findings of a government investigation team probing the controversial student death last Friday.
Student Zhang Jixin, 14, was found dead in the gutter near his dormitory building on the morning of Dec 18.
Local media quoted insiders as saying that Zhang was made to stand out in the cold all night as a punishment and froze to death.
Zhang was caught by one of the teachers on the evening of Dec 17, trying to climb the dormitory wall, the Wuhan Evening News reported.
The teacher who punished him allegedly went drinking and forgot about Zhang.
The next morning Zhang was found dead. The temperature was -10 C the previous night, the report said.
Another teacher from the school reportedly said the student had "died comfortably".
"He looked comfortable, without any pain on the face," the teacher was quoted as saying.
The remark soon triggered enormous criticism from members of the Chinese online community.
The teacher is reported to have temporarily left his job because of the mounting pressure on him.
However, Linqu police said Zhang's death was accidental.
"We tend to believe Zhang's death was caused primarily by unknown health problems. But there's still a possibility that the freezing contributed to his death," police said in a statement.
Police said Zhang was found lying in the gutter, wearing dark jackets and sports pants with cotton-padded underwear.
He was carrying two packs of instant noodles and some candies in his pockets.
Zhang was widely known to be honest and quiet in his home village.
In an interview with local television on Sunday, Zhang's father was crying hard over his son's death.
An insider told the local media that the family would negotiate a compensation with the school rather than go to court.