Cell phone users in Beijing and Shanghai will not be able to send text messages if they are found to have sent "illegal or unhealthy" content.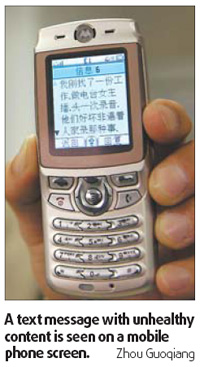 China Mobile's Shanghai branch yesterday said offenders will be suspended from using their text messaging service, but it denied earlier media reports that the phone numbers of the offenders would be revoked.
A customer service woman of China Mobile's Shanghai branch reached by China Daily yesterday said the suspension would only occur when the operator's system has automatically detected that the user has sent, or is sending, "a large amount" of illegal information; or if the operator receives complaints from other users.
China Mobile's Beijing branch also said they will take similar action. Users can call 10086 or send messages to 10086999 to report unhealthy messages, local media Mirror Evening News reported yesterday.
China Telecom and China Unicom, two other major mobile operators in China, also claimed that they will follow the action, the report said.
China Union's Beijing branch said it has set up a special team to carry out the campaign. If the message is rated by the system as "suspicious", an officer will personally read it to decide whether the message is "unhealthy" or not.
China Mobile said on its website that the automatic rating is based on "key words" provided by police. And the standard for determining whether a message is unhealthy or not is based on 13 criteria handed down by nine central government departments. No details of the criteria were given.
When a suspected unhealthy message is detected, China Mobile will temporarily suspend the message function of the user and wait for the evaluation from police authorities, it said.
Related readings:


 Cutting off cell phone sex threat


 Gov't reward for reporting porn websites


 GAPP: 15,000+ porn sites shut down in 2009


 China rewards student for porn-surfing


 Impromptu billboard porn film stops traffic
If the police confirm the message contains unhealthy content, the user's phone number will be temporarily banned from sending messages. If the police say the message is fine, it will issue a certificate to the user to seek resumption of service, the statement said.
However, the new practice has triggered heated debate.
"What if I send messages to my wife with sexual content? Am I also going to be suspended?" a netizen named Wanghunnocheng questioned on KDS, a popular forum in Shanghai.
Beijing appliance seller Yang Nan, 28, told China Daily at a China Mobile outlet in Chaoyang district: "Young people like me like sending some witty jokes to each other. If the company blocks us for no specific reason, I may not be so convinced (that they have the right to do so)."
Legal professionals have their doubts as well.
"How to clearly define the unhealthy content in the messages? Are there any details, such as how many obscene text messages I have to send to be suspended?" said Ju Yi, a lawyer of Shanghai Hui Gu law firm.
"I don't think this action is reasonable," he added. "The intention is good. However, I think it is not easy to achieve the expected result. The contract between China Mobile and its clients has to be considered as well, so the operator cannot just easily suspend the service."