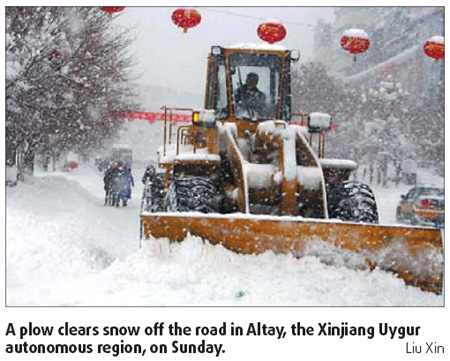 URUMQI: The number of people who are affected by the harsh cold fronts that have gripped the Xinjiang Uygur autonomous region has increased to almost one million, and more than 90,000 people have been evacuated, latest official figures show.
A total of four people and almost 40,000 livestock have died in the region. Direct economic losses are estimated at 320 million yuan ($47 million), the regional government announced yesterday.
Rescue workers have evacuated about 92,000 people from rural areas of the region because their houses were either flattened or damaged by the snowstorms or the areas where they live are threatened by potential snow slides as well as a lack of food and water, the government said.
Altay, the area worst hit by continuous blizzards since late December, has been reeling under the heaviest snow in 10 years. The area is expecting a dramatic drop in temperature and severe blizzards in its mountain area due to another cold wave.
Related readings:


 Heavy snow disrupts traffic in Xinjiang

 SMS returns to Xinjiang


 Xinjiang faces more misery in new cold wave


 500,000 affected in blizzard-hit Xinjiang, 4 dead


 Town in Xinjiang records lowest temperature
The temperature in Altay might drop to -42 C in the next couple of days, according to the regional meteorological station.
"The current temperature in the Altay area is between -25 C to -36 C, but the snow has stopped except in some remote mountain areas where there are no people or livestock," the director of the Altay region's information office surnamed Yan told China Daily yesterday.
"Our top priority is to clear roads so people and livestock in the worst affected areas can be evacuated for their safety and well-needed relief supplies can be delivered to other areas," Yan said. "Roads are life lines."
He added that cold weather will not hamper the relief work being carried out, but snowstorms definitely will because roads that have already been cleared could be buried under the snow again within hours.
In Qinghe county of Altay, herders of Yuandong farm, where almost one-third of livestock in the county spend their winter, are trying their best to move all 100,000 livestock to safer pastures at lower altitudes ahead of the upcoming snowstorm.
The grass on the farm is deeply buried under a thick layer of snow, which makes the livestock unable to find food and the forage reserve of the farm is extremely low. A total of 3,000 livestock died due to the harsh weather and shortage of food.
"It is so painful to see my sheep frozen and starve to death, our whole family relies on them," said a herder named Dauli. "To reach the grass under the snow that is turning into ice, some of my sheep used their hooves to crack the ice until they started to bleed, which makes them unable to walk."
"I am going to do anything to save them."
"To help the herders of Yuandong farm transfer their livestock they live on to safer places with sufficient food supply on time, the local government allocated more plow trucks and other vehicles to clear the road for the herders," said Zhao Jie, secretary of Qinghe's Party committee.
"We spend 100,000 yuan on petrol alone every day for the vehicles clearing the snow on the roads of the county," he said.
So far 40,000 livestock and 4,000 farmers and herders have been successfully transferred from the Yuandong farm.
The regional government has allocated 15 million yuan for disaster relief in the affected areas.