Google China's threat of pulling out of the nation has sparked attention worldwide this week to ties between China and the United States.
China's Web environment and the China-US trade relationship are among the topics that have been discussed. But it's inappropriate to play up the issue, or turn it into a political dispute.
Google's corporate development and chief legal officer, David Drummond, posted a statement Tuesday on the company's official blog, saying it was "reviewing the feasibility of our business operations in China."
According to the statement, the disputes with the Chinese government on its Internet regulations as well as major cyber attacks on the California-based company allegedly stem from China's attempts to force Google into considering an exit strategy.
For overseas businesses, including Google, they should respect laws, regulations and relevant policies of their host countries.
China's Foreign Ministry spokeswoman Jiang Yu said Thursday at a regular press conference that "China welcomes international Internet companies to conduct business within the country according to the law."
The Chinese government has blamed the world Internet giant for showing too many links to pornographic content in its search results, thus breaking China's laws.
Currently, Google is also handling a case with Chinese writers over copyright disputes of online books.
According to a list provided by Google at the end of 2009, its online library involves some 80,000 categories of Chinese books, 10 percent of which are works of 2,600 members of the Chinese Writers Association.
On the other hand, cyber attacks are a commonplace issue across the globe even if countries have been making every effort to combat hackers.
"China's law prohibits cyber crimes including hacker attacks," Jiang said.
On Tuesday, China's largest Internet search engine Baidu, which is also Google's major rival in the Chinese market, was attacked by hackers that paralyzed its website for more than three hours.
Microsoft's CEO Steve Ballmer has previously said that "There are attacks every day. ... We're attacked every day from all parts of the world and I think everybody else is too. We didn't see anything out of the ordinary."
So it's far-fetched to blame China as a scapegoat for cyber attacks just because of what Google said.
It's also natural for an international company to shift its market strategy or even pull out its business from a certain region.
Since Google.cn was launched in January 2006, its market share in China has continuously risen. But it is still unlikely for Google to make a dent in Baidu's market clout in the Chinese search market.
Baidu and Google took 63.9 percent and 31.1 percent of shares, respectively, of China's Internet search market in the third quarter last year, according to data from Analysys International, a leading advisor on the technology, media and telecom industry in China.
Google's global share is over 90 percent, according to web analytics company StatCounter.
Until now, Google's real intentions to quit China are still not clear.
There is no sense of blowing things out of proportion and turning a business issue into a political or diplomatic dispute.
Above all, Google's decision is no bigger than a corporate maneuver, no matter where the company comes from or how powerful it is.
The author is from Xinhua News Agency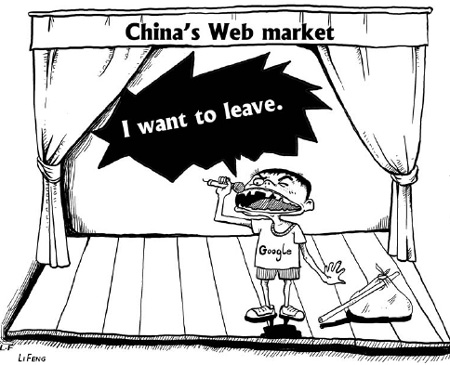 (China Daily 01/18/2010 page9)