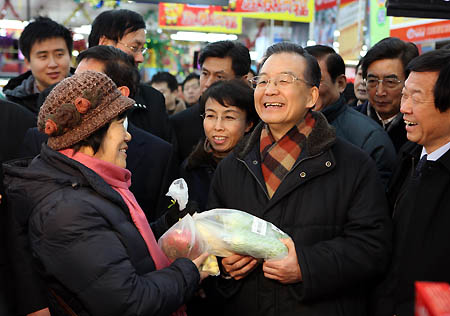 Chinese Premier Wen Jiabao talks with a consumer at a supermarket during his inspection in Beijing January 16, 2010. [Xinhua]
BEIJING: Chinese Premier Wen Jiabao Saturday stressed food and heating supply as cold snap has driven up vegetable prices and strained coal and gas supplies in north China.
Wen urged local government to pay attention to the produce, transport and storage of vegetables when visiting a produce wholesale market in the suburbs of Beijing.
Related readings:

 Innovation should drive science: Wen


 Wen's interview shows confidence


 Wen: Science, technology key to China's economy


 Premier Wen: China has hope, despite bumpy road ahead


 Wen: Overcapacity bears no relation with govt investment
"Only when food supply is enough and the prices are stable, will people feel at ease," said Wen.
Accompanied by Beijing's Party chief Liu Qi, Wen also went to a heating plant in Fengtai District and inquired about emergency response heating plan in case of extremely cold weather.
He asked local officials to secure the power, gas and coal supply to Beijing and said that energy supply should follow the principle of civil use first and industrial use second.
Wen also visited several ordinary Beijing families, who just moved into new houses with government subsidy.
Beijing municipal government has rebuilt and repaired nearly 500,000-square-meter old houses for 23,000 households.
The municipal government planed to solve housing problems for about 280,000 low-income families in three years.