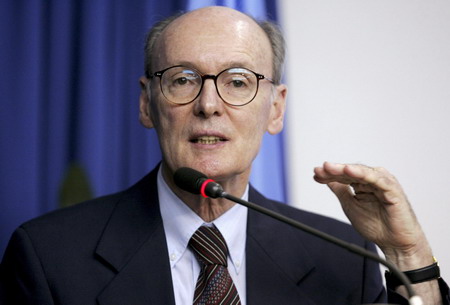 U.N. envoy to Haiti, Hedi Annabi, speaks to the media at the U.N. headquarters in Port-au-Prince in this January 7, 2008 file photo. [Agencies]
PORT-AU-PRINCE: Hedi Annabi, chief of United Nations (UN) in Haiti was found dead among debris in the quake-destroyed UN headquarters in Haitian capital Port-au-Prince, Chinese rescuers announced on Saturday.  
Xinhua reporters witnessed Annabi's body being recuperated by Chinese rescue team at 2:22 p.m. local time. He was believed to be in a meeting with a high-ranking delegation from China when the quake took place. So far no survivors were found at the scene.
Annabi was a Tunisian national. "All the personal property of Annabi that were found in the rubble will be sealed and handed over to UN officials, said Huang Jianfa, leader of the Chinese rescue team.  
Full Coverage:


Haiti Earthquake
Related readings:


 UN chief to travel to quake-hit Haiti


 Mourning ceremony held for Chinese victim in Haiti


 Chances slim for survival of 8 Chinese officers in Haiti


 Chinese aid to be delivered to Haiti Saturday noon


 Chinese victims of Haiti quake named
Chinese and Brazilian international rescue teams were working together in the rubble to look for Annabi. The rescuers put his body onto a stretcher, then 4 Chinese peacekeeping policemen took the body to the UN officers and officially transferred the body to them.
Annabi was the special envoy of UN secretary-general Ban Ki-moon in Haiti and chief of the U.N. Stability Mission (MINUSTAH) in the devastated Caribbean country. China also participates in the mission.  
Prior to this, the body of Luiz Da Costa, Deputy Special Representative of the UN general secretary in Haiti, was also found at 1:45 p.m. Saturday by the Chinese rescue team. Coaster is a Brazilian.
Among the eight members of the visiting Chinese delegation were high-ranking officials from China's Public Security Ministry. They were believed dead in the 7.3-magnitude earthquake that hit Haiti on Tuesday, probably killing more than 100,000 people and making 3 million homeless.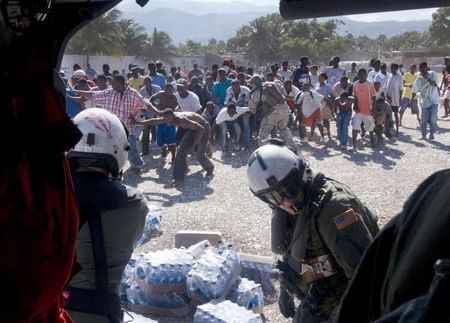 Haitian citizens receive water from United States air crewmen from Helicopter Sea Combat Squadron (HSC) 9 assigned to the aircraft carrier USS Carl Vinson (CVN 70) in Port-au-Prince, January 16, 2010. [Agencies]