China's Internet users hit 384 million by the end of 2009 due to the expansion of Internet access in more areas and a rapid increase of mobile phone Internet users, according to the latest report by China Internet Network Information Center (CNNIC).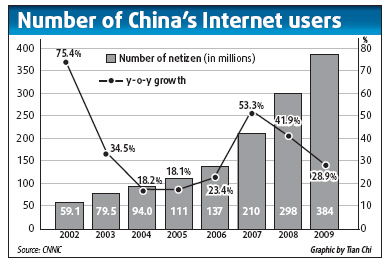 The number registered a 28.9 percent jump since the end of 2008.
Mobile Internet users increased by 120 million to reach a total of 233 million.
More people have chosen to access the Internet through mobile phones since the Chinese government issued third-generation (3G) licenses to major telecom operators in January last year, which enables high-speed connectivity to the Internet. About 8 percent of all Internet users access the Internet only through mobile phones.
By November last year, the government had used 277.3 billion yuan, part of its 4-trillion yuan stimulus package, to develop telecommunications infrastructure. Also, the government-funded project to sell household electric appliances in rural areas at lower prices contributed to more Internet coverage in the country.
Related readings:


 China's top 10 Internet buzzwords,angry moments...


 Internet content rating system gets thumbs up: Survey

 Is the Internet re@lly a danger to children?


 CCTV website to be replaced by internet TV

Despite a disparity in Internet use between the urban and rural areas, Internet users in rural areas reached 106.8 million by the end of 2009, an increase of 26.3 percent from 2008.
The most frequent online practices included listening to music, reading news, and doing searches, said the report. Though China's Internet users are engaged more in recreational activities, they are gradually shifting to consumption related practices, including tourism reservations, online stock playing, and e-banking, which respectively registered increases of 77.9 percent, 67 percent, and 62.3 percent respectively.
China passed the United States to boast the largest population of Internet users in 2008, but the country's Internet penetration rate is still low, with just 28.9 percent of the total population online in 2009.