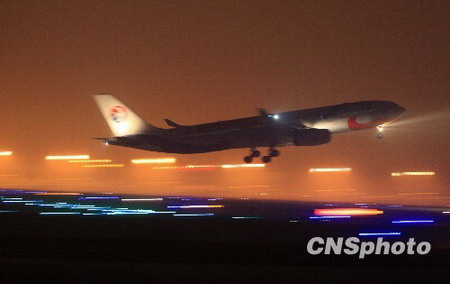 An A330-300 aircraft takes off in a trial test of a second runway at Shanghai Hongqiao Airport on January 15, 2010, as the east China municipality revs up preparation for the upcoming World Expo. The newly completed aerodrome runway, fifth in the city, is expected to be put into use on March 16. [Photo/CNSphoto] 
Shanghai will become the first city in China to have five runways for civilian use following a successful test flight on a new runway in the city's Hongqiao International Airport, People's Daily Online reported.
An Airbus A330-300 jetliner in World Expo livery from China Eastern Airlines conducted the first test flight by a large airliner on the newly-built runway at the airport Friday morning.
Related readings:


 Hongqiao proposes runway, terminal


 Shanghai Hongqiao Airport to expand capacity by 30%


 Shanghai Airport to swap Hongqiao assets for Pudong stake with parent
The 3300-meter-long, 60-meter-wild runway is part of Hongqiao airport's extension project, which also includes a new terminal. The new runway is large enough to be a qualified alternate runway for the Airbus A-380, according to the report.
The runway is expected to be put to use on March 16 if it successfully passes the quality check conducted by the Civil Aviation Administration of China (CAAC).
Hongqiao International Airport used to be Shanghai's main international airport before the completion of Pudong airport in 1999. In 2009, Hongqiao airport handled over 25 million passengers, 2.6 times higher than the designed number, People's Daily Online said in its report.
As the host city of this year's World Expo (from May 1 to October 31), Shanghai will see a further increase of inbound tourists as 70 million people are expected to visit the expo and many of them are from foreign countries.
The extension project of Hongqiao airport started in 2007 with a total investment of 15.3 billion yuan ($2.24 billion).