After ending the border dispute, China and Vietnam can now concentrate on enhancing trade relations and economic development, say analysts.
"We can develop true economic cooperation now there's no longer a threat in the area," said Zhai Kun, an expert in Southeast Asian studies at the China Institutes of Contemporary International Relations.
Pan Jin'e, an analyst with the Chinese Academy of Social Sciences (CASS), agreed and said a "major hurdle" to enhancing relations has been swept away.
"The land settlement laid a foundation for better bilateral ties in economics, politics and culture. It meets the need of those living in the border region to develop economic and friendly exchanges," she said.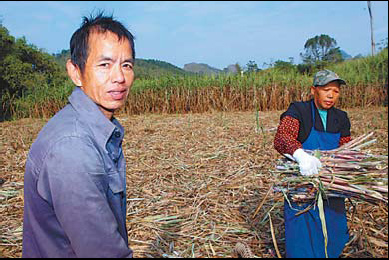 Farmer Lin Shiying, 56, and his wife collect sugar cane. Lin said the boundary stone near his home in Longzhou, Guangxi, has brought an end to quarrels with his Vietnamese neighbors. [Huo Yan/China Daily] 
One such resident is farmer Lin Shiying, 56, who said the boundary stone laid near his home in Longzhou in 2007 brought an end to constant quarrels with his Vietnamese neighbors.
"Before the stone we didn't know what land was ours and what wasn't," he said as he cleared sugar cane with his wife. "Sometimes I accidentally planted on the Vietnam side, which always led to arguments and losses for me. Now our relationship is a lot better and we are clear about what belongings to who."
The number of border clashes between Chinese and Vietnamese residents has fallen dramatically since Wu's team laid their stones, said an official with the Longzhou foreign affairs office.
"We normally had 17 or 18 reported cases before 2003. We had only one case in 2008," the official said last month.
Although the land border dispute between China and Vietnam has been settled, the nations' leaders still face massive challenges to end their maritime territory dispute.
Both countries claim sovereignty over island groupings, including Xisha and Nansha, in the South China Sea - officially called the East Sea in Vietnam.
Armed Vietnamese were accused of raiding several Chinese vessels in the Beibu Gulf, south of Hainan province, in January 2007.
On Jan 5, Chinese foreign ministry spokeswoman Jiang Yu reiterated China's stance that Beijing has "indisputable sovereignty" over islands including Xisha and Nansha in the South China Sea.
Vietnam officials last month voiced concerns about tensions in the South China Sea, but they insisted the matter will not lead to fresh conflict as the nation's new defense White Paper stresses international co-operation.
Nguyen Chi Vinh, Vietnam's deputy defense minister, said that the situation in the South China Sea is a matter of concern for Vietnamese national defense but the complications will not lead to conflicts.
However, just 10 days later Vietnam's Prime Minister Nguyen Tan Dung announced the nation had signed deals worth billions of dollars with Russia to buy submarines and fighter jets.
An unnamed source told Interfax, a Russian news agency, that Hanoi would buy six diesel-electric Kilo-class submarines worth $2 billion, the BBC in London reported. The country is already waiting to receive eight Sukhoi fighter jets this year, the BBC quoted Interfax as saying.
A spokesman for China's foreign ministry said the central government had "noticed" the purchase by Hanoi, but declined to comment further.
Pan at the CASS said it was natural for a country like Vietnam to upgrade weaponry in tune with its economic development, but recognized Hanoi's deal with Moscow could be seen as an effort to counter Beijing's influence in the South China Sea.
"China and Vietnam have both adopted defensive strategies, and it would be good for both to resolve the maritime disputes now that the territorial claims have been settled," she said.
"Resolving the land border dispute can offer both countries useful lessons for resolving the maritime dispute, such as trust and mutual understanding."