The workers who risked life and limb to lay boundary stones after China and Vietnam ended land dispute.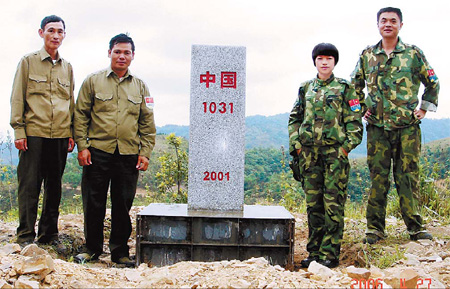 Wen Xueyun, second right, the only female boundary team leader, stands with her team after placing a boundary stone along the China-Vietnam border in Pingxiang, Guangxi Zhuang autonomous region. [Photo courtesy of Wen Xueyun]
It has been 31 years since Wu Xurong was a Chinese militia gunner fighting in a short but fierce conflict with Vietnam - yet it was only last year he completed his final mission.
The 57-year-old has spent almost eight years dodging landmines to lay more than 2,000 boundary stones that not only mark the border between China and Vietnam, but also put an end to decades of land disputes between the two countries.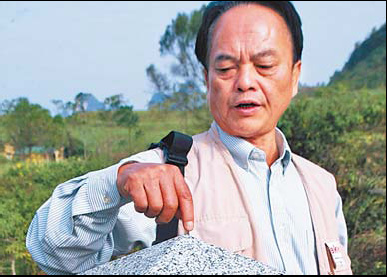 Wu Xurong, 57, who led the boundary team in Longzhou. He said his team was constantly looking for landmines when laying the stones. [Huo Yan]
In 1979, Wu was part of an anti-aircraft unit protecting a bridge in Longzhou, Guangxi Zhuang autonomous region. Today, he is one of the many who has helped to literally rebuild relations between Beijing and Hanoi.
"Life is a capricious business," said Wu, who led a boundary stone team in Longzhou for almost eight years. "For the sake of economic development, China and its neighboring states must have sound relations."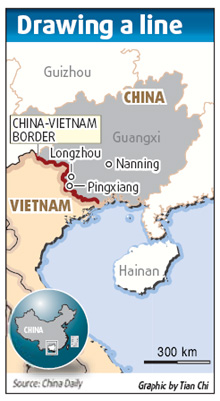 Both sides agreed to the 1,400-km border in 1999. Negotiations had been ongoing for seven years, with the nations normalizing relations in 1991.
The deal saw 227 sq km of disputed land evenly distributed, with the line marked on a map with a scale of 1 to 50,000. The last boundary stone was finally laid in November. He started work on the boundary project in 2001.
"It has been the toughest job of my life," said Wu, whose team laid 228 stones along the 112-km border in Longzhou.
As the China-Vietnam border largely goes through mountainous regions - it starts in Yunnan province and ends at the Guangxi coast - Beijing and Hanoi mobilized thousands of workers in 28 teams, each including surveyors and migrant laborers.
Staff from both countries' foreign ministries marked the laying of the final stone with an official ceremony on Nov 18.
Wu, one of the few to work on the project from start to finish, said more than 200 people had been a part of his 12-strong team since 2001.
"Outsiders would have a hard time imagining how tough and dangerous our job was," he said. "We lived mostly by the border and we had to be constantly on the lookout for landmines.
"I've sat and stepped on many such devises during my time in the mountains. I'm just lucky they were all really old and none of them exploded."
China and Vietnam both buried landmines in the once-disputed narrow strip of land, and despite several large-scale sweeps by the People's Liberation Army (PLA) many still remain, making the deep mountainous ranges hazardous, he said.
"I was there to place boundary stones for my country, but one bad move would have been my tombstone," Wen Xueyun, who led the boundary team in Pingxiang, 40 km west of Longzhou, told China Daily.
Wen, 45, joined the project in 2005 and is believed to be the only female team leader. She said her group, who laid 199 stones along 85 km, was almost wiped out in 2008.
"We were laying stone No 1091 in Puzhai township," she recalled. "I was sitting on a mound near where it was being placed, but when I stood up I felt my trouser catch on something. It was the top of a large landmine.
"Luckily it was old and too rusty to detonate. I don't like to think what would've happened if it wasn't.
"It was strange finding a mine in a township. You expected them on hills, like where we laid stone No 1142. We were having a discussion with our Vietnamese counterparts and the area was only 10 sq m, but we found 13 landmines there."
However, risk was part of the mission, she said. "We had to go through these places, even if we knew there would be landmines."
Local PLA forces were responsible for minesweeping the border region but boundary teams were expected to do it themselves in remote mountain areas, the team leader told China Daily.
"We had some minesweeping equipment and almost everyone on the team was an expert by the time we had finished. Unlike other tasks we had, any mistakes could have ended in deaths," said Wen.