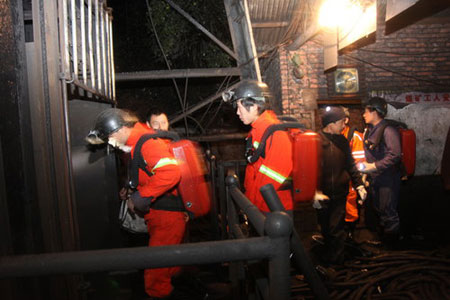 Rescuers prepare to get down to a shaft where 27 workers were working while a fire broke out at Lisheng Coal Mine in Tanjiashan Town, Xiangtan County of Xiangtan City, Hunan province, Tuesday, January 5, 2010. [Photo/CFP]
XIANGTAN, Hunan: The death toll has climbed to 25 in Tuesday's coal mine fire in central China's Hunan Province.
Related readings:


 At least 7 killed in colliery fire in central China


 Death toll rises to 6 in Yunnan colliery gas blast


 SW China colliery outburst traps 11 miners


 Rescue halted with 16 still trapped in colliery flooding


 10 confirmed dead in SW China colliery gas leak
Rescue work continued Wednesday to search for survivors, as five miners were believed to be trapped at the Lisheng Coal Mine in Tanjiashan Town of Xiangtan County.
Underground cables caught fire in the mine pit at around 2 pm Tuesday, while 73 miners were working in the shaft. Forty-three of them managed to escape the shaft.
Rescuers retrieved nine bodies at a mining platform in the shaft about 160 meters deep Tuesday night.
At 8:30 am Wednesday, the emergency rescue headquarters said nine more bodies had been retrieved about 540 meters underground.
Rescuers are searching another mining platform, at least 600 meters underground Wednesday, hoping to find survivors.
Experts with the provincial work safety bureau said there were chances for some of the trapped miners to survive, after the fire was put out and the ventilation system restored on Tuesday.