As tourists and shoppers enjoyed the snow yesterday in Nanluoguxiang, a popular hutong in central Beijing, Zhu Chuanjin was in his home nearby, desperately trying to stay warm.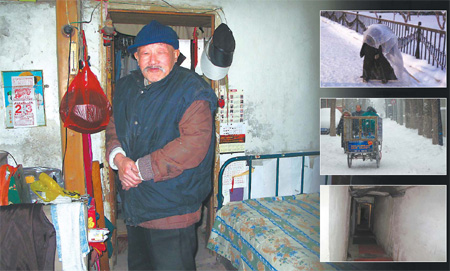 Clockwise from left: Zhu Chuanjin, 83, keeps warm in his home in Beijing, which he shares with his family. He has only one electric heater in his living room; Zhao Qing, a 70-year-old beggar from Shandong province, wanders Haidian district; Zhang Kongjun, a bottled water delivery man, rides his tricycle in Nanluoguxiang on Sunday; and a corridor leading to some basement apartments in the capital. [Photos/Zhang Yuchen and Hu Yongqi] 
"I am wearing three cotton-padded coats but still feel very cold," said the 83-year-old, who pointed to a small electric heater in the corner, his only source of heat. "It doesn't work very well."
Related readings:


 Snow cripples apartment sales


 Cleaners brave snow to clear roads


 Snow blankets Beijing


 Snow causes air traffic disruption

Temperatures in North China plummeted at as low as -16 C yesterday, including in the capital, which witnessed its biggest chill for half a century, said meteorological experts. But amid the snow-blocked roads, grounded flights and hazardous pavements, however, the greatest concern was for the country's impoverished urban residents in the face of such extreme weather.
Zhu's case is not uncommon. He shares his tiny courtyard home in Fuxiang Lane with his wife, two sons and a grandson. He said his daughter-in-law, unable to cope with the cold, moved back to her mother's home. "Younger people are all fleeing here for warmer places," he said.
Electric radiators were installed in Zhu's and 17 neighbors' homes by the municipal government three years ago. They can be used to heat rooms during the day with energy stored between 10 pm and 6 am, when electricity is half price. However, the heaters are only powerful enough to keep homes at about 11 C, which is 5 C below the municipality's interior standard.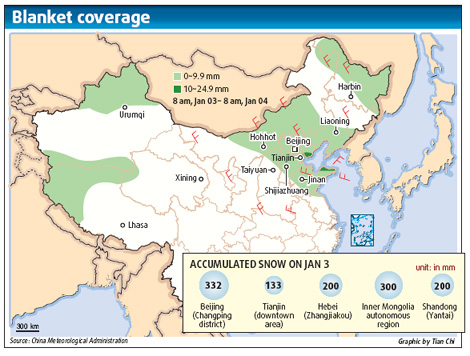 The elderly man said every night he and his family, who all sleep in the same room, try to stay warm under three quilts and bubble wrap. "I dare not move in the night because I know that if I do the bubble wrap may fall off and it will get much colder," said Zhu.
His family received a heating subsidy of 950 yuan ($140) from the authorities in the summer "but it was not enough", he complained. "Every morning, my first thought is the daily cost. We pay nearly 100 yuan a month for electricity, water supply and gas."
Many people have installed air conditioners and some burn honeycomb briquettes - flammable blocks of coal - to keep warm but that could potentially double a family's heating bill, said Zhu's neighbor, Wang Yongjun.
Zhang Kongjun, 21, shares a 5-sq-m room with three fellow migrant workers in the same courtyard. Inside the room is freezing cold. They have no radiator, only thin electric blankets on each bed, which they turn on at about 8 pm.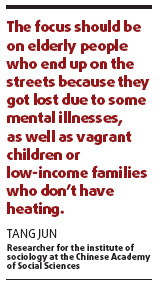 "I couldn't fall asleep last night, I was so cold," Zhang, a bottled water delivery man from Shandong province, told China Daily on Sunday. "It took five hours to deliver just five bottles of water today. I earn 1 yuan per bottle."
Across the city, salesman Zhang Kan, another migrant worker, lives with his girlfriend in an 8-sq-m basement room in the Huixinli residential community. Basement rooms are usually the cheapest to rent in any Chinese city, attracting a large number of migrant workers and low-income families.
"I can bear the temperature in our room, which is about 7 or 8 C, but I don't think kids or the elderly are OK with it," said the 23-year-old.
His neighbor, Ma Benchun, 9, who lives with his father, older brother and sister in a room with no heating, said he never takes off his coat when he gets home from school because it is too cold.
"We are constantly rubbing our hands and stamping our feet to keep warm," said the boy, whose family hails from Puyang in Henan province. His father, a cobbler, pays 500 yuan a month in rent for the room, which is just big enough to fit two beds and a square table. The room was littered with rotten apples, while a wet school uniform hung from a high wire.
Gao, a 70-year-old who lives with his wife in a 9-sq-m basement in the Qianhejiayuan residential complex, said they could only huddle together under a quilt on Sunday. The couple pays 500 yuan a month in rent, which gets them a radiator, but Gao said other tenants pay 150 yuan less for rooms without heat.
On top of their pension allowances, the farmers from Heilongjiang province make extra money collecting recyclable garbage from street bins. But they were unable to work in the heavy snow. "My son warned us of the potential dangers, so we didn't go out today," he said on Sunday.
Rural residents also suffer during cold snaps, said Liu Hansan, 33, a migrant worker on his way to catch a train home to Henan. He said there was no heating at all in his village.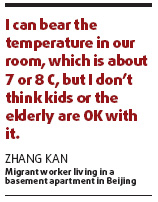 "We've never dreamed of anything like that," he said, and explained that when the weather is extremely cold villagers build bonfires in their compound and gather around. This happens two or three times a day in extreme conditions, he added.
On a pavement in the capital's Haidian district, China Daily met Zhao Qing, a 70-year-old beggar. With just a cushion she found in the trash and a stick to help her walk, she sits beside the Fourth Ring Road from 9 am until 6 pm every day.
The farmer moved to Beijing from Heze, Shandong province, several months ago, leaving her husband at home to look after elderly relatives. "I sit here to get some money for food to feed myself, nothing else. Kind people always give me coins and notes of 5 or 10 yuan," she said as she shivered in the freezing wind.
When she set off for home just before 6 pm, her frozen hands could hardly hold onto her cushion and stick. She dropped both several times as she disappeared into the night.
Most cities offer a range of services to help homeless people and beggars, including relief centers.
Amid the traffic chaos on Sunday, Liu Jinjing, a worker at a State-run aid facility in Dongcheng district, Beijing, was completing her daily trawl for vagrants in need. She tours the area in a six-seater minibus twice a day, offering homeless people blankets, coats, hot water bottles, food and even a bed at her shelter.
On Sunday, when China Daily joined her for the afternoon patrol, no one would take a seat on the bus.
"If a person accepts our help, we take them on the bus to our center where they can stay free for up to 10 days, and perhaps get a train ticket to their hometown," she said. "If they don't, we offer them instant noodles and blankets."
After driving around for more than an hour, Liu eventually spotted an old man covered by layers of stained clothing in a hutong near the upscale Wangfujing shopping area. He refused any help, even after the aid worker warned him he could die in the freezing conditions.
An old woman from the neighborhood, who revealed the old man had been living this way for more than a month, pleaded: "Please take him away. We don't want to see him die here."
But Liu was powerless and said: "Under the law, we can't force the homeless to accept our help. Plus, I am here by myself. I am worried if I try to pull him he might struggle and fall because the sidewalk is so slippery. All I can do is come back later and try again. We can't just let him die."
Tang Jun, a researcher for the institute of sociology at the Chinese Academy of Social Sciences, said government-sponsored aid centers are still the most effective way to help homeless people, especially in the extreme weather.
However, the current system, which makes it illegal to force homeless people to go to relief shelters, usually fails to protect those in most need, he said. "An effective social aid system should allow forced sheltering for persons with limited or no capacity for civil conduct."
Tang said the relief centers in cities should take the initiative in searching for homeless people and offer help in such extreme weathers, instead of waiting for vagrants to come to them.
However, he added that beggars should not be the No 1 priority for government help because other social groups are more vulnerable to the cold.
"The focus should be on the elderly people who end up on the streets because they got lost due to some mental illnesses, such as Alzheimer's disease, as well as vagrant children or low-income families who don't have heating in their home," he said. "As for the beggars, I think 70 to 80 percent of them are professional and their living conditions are actually not that bad. I don't really worry about them."