Update: A train from Ulanhot to Hohhot started up again after a 12-hour delay due to heavy snow on Monday.
Falling mercury causes power shortages; cold spell to continue
The heaviest snowfall to hit northern China in nearly six decades continued to snarl traffic yesterday, stranding thousands of passengers on railways and at airports.
The unusually harsh winter weather also caused coal shortages, forcing some provinces to cut power supplies.
Related readings:


 1,400 passengers stranded by snow rescued


 Snow causes air traffic disruption


 Snow blankets Beijing


 Cleaners brave snow to clear roads

Though snow stopped in most parts in the north by yesterday morning, heavy snowfall and biting cold continued in parts of Inner Mongolia, Hebei and Shandong.
The heavy snow led to the delay of 13 passenger trains in Inner Mongolia, and forced the closure of all four airports in Shandong, as well as 30 state highways in northern China.
Beijing Capital International Airport, with more than 1,400 flights scheduled to take off yesterday, reported severe disruptions. By 4 pm, 485 flights took off, 690 flights were delayed for an average of 90 minutes, and 98 flights were canceled, an airport spokesman said.
A train from Harbin to Baotou ran into snow more than 2 m high near Jining in Inner Mongolia on Sunday and passengers were evacuated only yesterday.
All 15 carriages were buried in snow and more than 1,400 passengers were stranded in the train without lighting and heating. Food and drinking water were also in shortage, the local railway bureau said.
"The snow was so high because this area is at a lower elevation. It piled up quickly, and huge gales continued to blow more snow in," Zhang Jianwen, an armed police officer from Ulanqab League who led the rescue work, told China Daily.
"Though snow stopped yesterday, the temperature was -28 C, freezing the doors," he said.
Armed police managed to pry open one door, and with the help of the local railway bureau, evacuated the 1,400 passengers to a nearby railway station yesterday.
Nearly 2,000 people, including armed police, railway workers and farmers, worked to remove snow from the rail track with shovels, he sad.
"For a whole day, we only ate a steamed bun each after waking up at 4 am," Zhang said.
As the train blocked the line, two more passenger trains were affected, too.
"Some 2,000 passengers were stranded on the two trains, but we delivered food to them," he said.
By 6 pm, snow was finally cleared away from the railway, and trains could pass through at a slow speed, a spokesman for the Hohhot railway bureau surnamed Han said.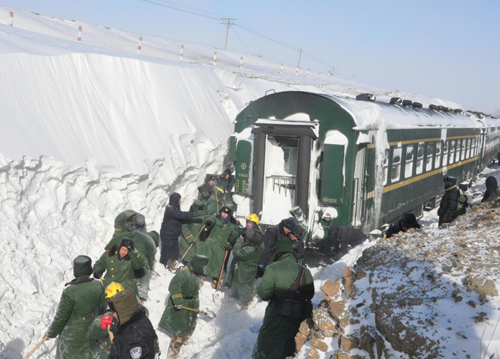 Armed police and railway workers remove snow from the track to free a train stranded near Jining in Inner Mongolia yesterday. More than 1,400 passengers were evacuated. [Photo/Xinhua] 
more photos
In southern China, heavy fog and low visibility forced airports in Chengdu and Nanchang to close partially yesterday. Some 9,000 passengers were stuck at the airports.
With people turning up the heat indoors to fight the extreme cold across the country, many provinces are reducing electricity supply due to the shortage of coal.
Since December, power has been cut or reduced to more than 2,000 factories in Wuhan, Hubei province, to ensure supply for household use, while most parts of the south face electricity shortages, Han Xiaoping, an energy analyst, said yesterday.
With power demand surging this winter, coal stocks in 349 power plants across the nation have decreased to around 27 million tons, or barely enough for 12 days of generation, while stocks in the north have declined to less than a week, the Shanghai Securities News reported last month.
Generally, coal stocks should be enough for at least 20 days, Han said.
But in Hubei province, things are much worse. The local electricity supplier faces a shortage of 760,000 tons of coal before March this year, Yang Yong, assistant chief engineer at Hubei Electric Power Company, told China Business News yesterday.
Nearly 2.4 gigawatts, or some 17 percent of the coal-fueled power generation capacity in Hubei, has been shut down due to coal shortage and there is a risk of even more output cuts, the newspaper reported yesterday.
Electricity suppliers in the north are also facing a great challenge with the temperature falling drastically through the earlier part of this week.
In the next 10 days, temperatures could fall to around -32 C in the far north and another cold wave will sweep the region around Friday, bringing gales and severe cold, the national forecaster said.
Experts predicted that the power shortage would last till the end of this winter.
Despite the current coal shortage, there are no signs that the cold spell would trigger the weeks-long disruptions and power cuts that hit some parts of southern China in unusually icy weather in 2008.
Reuters contributed to the story