Dairy company's 3 executives set for prosecution within week
Quality inspectors are again in the eye of the storm for possibly covering up a tainted milk case for almost a year.
But a senior official from the country's top quality agency yesterday insisted the case is "an individual one" and has nothing to do with the major milk scandal in 2008, in which six babies were killed and about 300,000 were sickened.
Shanghai Panda Dairy Co Ltd was closed last week and three of its executives arrested for selling dairy products a year ago that were tainted with the toxic chemical melamine, the city's food safety office announced last Thursday, the last day of 2009.
The tainted products include a batch of milk powder for elderly people, four batches of milk powder and four batches of condensed milk, officials said.
However, a subsequent media investigation found that local authorities discovered the contamination on Dec 30, 2008, and that the investigation began last February, according to documentation from Shanghai's Fengxian procuratorate. This means that the information had been hidden from the public for about one year.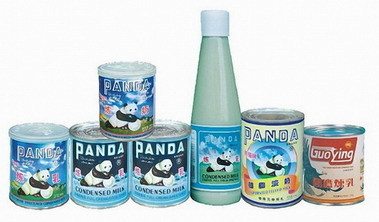 Shanghai Panda Dairy Co Ltd Products. [File Photo]
"The case was not allowed to be released to the public," Shen Weiping, an officer with Fengxian procuratorate, told China Daily yesterday. "The three executives will be prosecuted in a week for producing and selling fake or substandard products."
The three suspects are Wang Yuechao, the company's board chairman; Hong Qide the general manager; and Chen Dehua, deputy general manager, according to procuratorate officials.
Yan Fengmin, deputy director of the inspection division of the General Administration of Quality Supervision, Inspection and Quarantine (AQSIQ), said yesterday that the case was withheld for such a long time because it was under criminal investigation.
"Once the case was discovered, the local government soon started an investigation and found that the people involved may have broken the Criminal Law. The case was then handed over to the public security department," he told China Daily on the sideline of a meeting in Beijing.
He said both AQSIQ and the government in Shanghai were informed immediately after the case was found, and all harmful products were seized.
Yan also said the Shanghai case is an individual one and refuted media reports that the raw material of the tainted products was left over from products in 2008.
In September of 2008, 22 dairy companies, including Shanghai Panda, were found to be producing milk products, mainly baby formula, tainted with melamine, an industrial chemical that may cause kidney stones and kidney failure among children.
Related readings:


 Shanghai dairy shut over tainted milk products

 Compensation lawsuit over tainted milk postponed


 Tainted milk official in new role


 Two get death in tainted milk case
The scandal was one of the country's most serious food safety breaches, in which at least six babies died and about 300,000 were sickened.
Melamine, which is used during the manufacture of plastics and fertilizer, was added to watered-down milk to fool inspectors who were testing for protein content. The chemical was used in an attempt to boost profits.
After the exposure of the scandal, quality control authorities required the withdrawal and destruction of all contaminated products as well as the raw materials.
However, local media had reported that the Shanghai company actually used the recalled contaminated milk products and tainted milk powder provided by Ningxia Panda Dairy Co Ltd.
But Yan said as far as he knew, all tainted products in 2008 were destroyed under the supervision of local governments nationwide.
"These products had nothing to do with the previous tainted milk case," he insisted.
Wang Dingmian, former chairman of the Guangdong Provincial Dairy Association, was not optimistic.
"The latest contamination shows some tainted products in 2008 must have slipped through the fingers of quality inspectors," he said.
Wang said that a feed producer told him last June that he had purchased six to seven tons of melamine-tainted milk powder at a low price to make feed.
"I just told him to watch out, that he may go to jail," Wang said.
Yesterday, no Panda-brand milk powder was found in Shanghai's big supermarkets, according to China Daily's on-site investigation.
"We have never heard of the brand," said customers and salesmen in these supermarkets.
At a chain store of GMS, a big supermarket in Shanghai, the dairy products from Shanghai Panda were taken off the shelves just two weeks ago after receiving the order to do so from headquarters, according to one of its sales staff.