Have rehab clinics and inaccurate surveys caused China to overreact in dealing with 'addictions' to the Web? Lan Tian investigates [Related video]
As Wang Nan looked through the iron bars across her dormitory window, the 15-year-old dreamed of one day returning to her family, free of her Internet addiction.
The teenager, who did not give her real name, was enrolled at the New Hope Adolescent Education School, a licensed center in Shangrao, Jiangxi province, last June after being expelled from middle school for skipping classes to visit wang ba, or cyber cafes.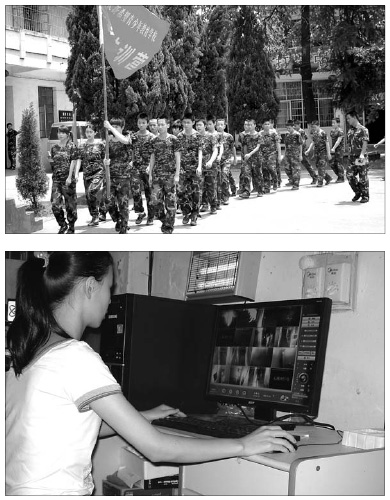 Above top: Teenagers receive "treatment" at the New Hope Adolescent Education School, a licensed Internet addiction center in Shangrao, Jiangxi province.

Above: A teacher checks the 24-hour surveillance cameras that monitor students in the school.

[Photos courtesy of Lou Dengfeng and Lan Tian]
"Of course I don't want to stay here any longer but this kind of school should exist. The education has helped me get back on the right track," said Wang, who, like her fellow students, is kept under 24-hour surveillance.
She is among the thousands of children and young adults now undergoing "treatments" for Internet addiction at more than 300 rehabilitation schools, camps and clinics across China - the majority, experts say, enrolled by nervous parents who fear their child is the victim of a 21st century disease.
But despite the panic, medics, psychologists and sociologists stand divided on the question of exactly how big a danger Internet addiction is to Chinese youth, while some claim the nation is "overreacting".
Several official and independent reports on the issue warn of a rampant epidemic sweeping China, while government departments at all levels have sprung into action, closing down cyber cafes and announcing plans to install the Green Dam-Youth Escort filtering software on every computer.
The Ministry of Health even set its theme for last year's World Mental Health Day on Oct 10 as "avoiding Internet overuse".
"The harm an addiction to the Internet can do to Chinese adolescents is just as serious as opium," said Tao Ran, 47, director of the Juvenile Psychological Growth Base of China, the country's first Web addict rehab clinic. "Once teenagers become addicted, it is very difficult to completely cure them."
Lei Xiaofeng, vice-director of student affairs at Beijing University of Aeronautics and Astronautics, was also quoted by people.com.cn as saying that about 3 percent of those expelled from the college each year had Internet addictions. "It shows the condition has a big impact on students," he said.
The actions and comments, and many like them, have spread fear among Chinese parents, most of whom are allowed only one child under the country's family planning policy and are terrified of their offspring's education being disrupted.
Li Wenhua, the mother of Wang, became worried about her daughter when she began to spend more time on Website chatrooms. The teen started skipping school after breaking up with a boyfriend she met online.
"I tried everything to convince her to straighten out and go to school," said the 38-year-old single mother. "I reasoned with her, asked my lawyer friend and her schoolmaster to talk to her, threaten her, even beat her with a steel pipe. But all was in vain."
After her daughter's expulsion, she paid out 30,000 yuan ($4,400) to enroll her in New Hope Adolescent Education School. She added: "It is very expensive but it is worth it. My once rebellious daughter has picked up her schoolbooks again."
But is the fear surrounding Internet addiction really justified?

Not according to Kong Lingzhi, deputy director of the disease prevention and control bureau under the Ministry of Health.
"The belief that Internet addiction has become a serious social problem is incorrect. Many people think it is a great scourge of the country, but this is simply not true," she said. "The ministry has organized a series of studies on related issues since 2008 and, although there are still no final results, they have already shown very few children are Internet addicts."
China has the world's largest online population, with 338 million as of last June, and 33 percent are under 20 years old, show surveys by the China Internet Network Information Center.
The China Youth Association for Network Development, which is affiliated with the Communist Youth League of China, stated after studies in 12 major cities in 2008 that 10 percent of all "juvenile netizens" are addicted to the Web.
However, Kong questioned the accuracy of such research and accused non-medical rehab institutions of exaggerating the threat of Internet addiction to teenagers in order to whip parents into a frenzy.
"Yes, Internet addiction is a noteworthy social phenomenon, but it's not as serious as people think. The whole society is overreacting," she added.
A joint study to examine the lifestyles of adolescents was launched by the health ministry, the China Association for Science and Technology (CAST) and the Chinese Academy of Sciences last May.
Officials interviewed almost 15,000 students at middle schools and universities across nine municipalities and provinces, including Beijing, Shanxi, Yunnan and Guangdong, and discovered the Internet was, in fact, ranked just third in the most popular free-time activities.
"Teenagers spend more time doing homework and communicating with friends than they do on the Web," said Gao Kan, director of science popularization at the CAST, when the results of the joint study were announced last October. Using the Internet was followed in the list by reading books, watching television, outdoor activities, playing sport and shopping.
"The study showed, by and large, that the lifestyle of Chinese adolescents is good, healthy and balanced," added Gao.
Researchers found that the Internet did have a negative influence on a small number of youths, with some in danger of being hurt or misled by harmful online content. More than 50 percent of students also complained the Web had affected their health, listing such things as blurred vision, back and neck pain, and sleeping problems.
"Internet addiction is not a serious problem, but that doesn't mean people do not need to pay attention to it," said Gao Wenbin, a researcher for the science academy's psychology institute. "China's Internet situation has its own characteristics. Here, the majority of those overusing the Internet are adolescents. In western countries the majority are adults. The most common form of Internet overuse is online gaming in China, but it is not the case in other Asian or western countries."
Chinese teenagers who overuse the Internet, however, have three very common characteristics, he said: they recorded poor exam results at school, have little communication with their fathers and have few friends.
"The issue of Internet overuse is complicated in China and the international community. There is no national or international standard about the definition of Internet addiction, let alone a proper treatment approach," said Gao Wenbin.
Qiu Renzong, a bioethicist at the Chinese Academy of Social Sciences, agreed and added: "Many psychiatrists think improper use of the Internet is just a manifestation of depression, anxiety, impulse control disorder or pathological gambling."
Addicts are hooked on gambling, not casinos; or on shopping, not department stores, he said. "The Internet is a medium, not a tangible substance. People can be addicted to wine, cigarettes or drugs, but cannot be addicted to a medium."
Even the term "Internet addiction" has come in for criticism from experts - not least from the man who first coined it.
Ivan K. Goldberg, a psychiatrist based in New York, is credited with inventing the term in 1995 in an online parody of the Diagnostic and Statistical Manual of Mental Disorders, which is produced by the American Psychiatric Association. He wrote that symptoms included skipping important social or occupational activities because of Internet use, having dreams about the Web, and "voluntary or involuntary typing movements of the fingers".
However, in a later interview with New Yorker magazine, he called it an "unfortunate term" and added: "To medicalize every behavior is ridiculous. If you expand the concept of addiction to include everything people overdo, then you must talk about people being addicted to books and jogging."
Despite the arguments over whether China faces a problem with Internet addiction among young people, experts have called the Ministry of Health to take more charge of the issue.
Ministry officials last July stepped in to ban electrical stimulation therapy for Internet addicts after it was discovered doctors at Linyi Psychiatric Hospital in Shandong province had used it to treat 3,000 patients. However, research by the China Youth Association for Network Development has shown the hospital simply replaced its apparatus with "low-frequency pulse" equipment, and is continuing to administer a similar therapy.
"The ministry should shoulder regulatory responsibility. Suicide is not an illness either, but anything to do with suicide comes under the health ministry's remit," said bioethicist Qiu. "They and other government departments also need to strengthen supervision of rehab clinics to protect teenagers' safety and dignity. The profiteering and violence by these institutes must be stopped."
Parents also have a major role in helping children develop healthy lifestyles, said Gao Kan at the CAST.
"Parents have to know they should cherish, accompany, guide and be involved in their children's whole growing process," he said, and called for education officials to establish a multidimensional evaluation system to avoid children being judged solely by exam scores.
Mother Li Wenhua, however, said authorized Internet addiction clinics were vital to help parents help their children.
"These institutes do help children and, for parents who are as desperate as me, these institutes give us hope," she said. "Parents should make sure they send their children to qualified centers, while the government should strengthen supervision and stop illegal clinics from operating."
Li's daughter Wang Nan is now catching up on the lessons she skipped and plans to take the entrance exam for senior middle school when she graduates at the Shangrao rehab center.
A 17-year-old student at the
"I Can" Education School in Nanchang, Jiangxi province, who gave his name as Zhang, said he started to play truant from school to play online games after he discovered his parents had divorced.
"This school has helped me. It has given me a chance to think independently about what I have done and what I want to do in the future," he said. "I can see what I've done is stupid. After leaving here I'll put all my energy into studying. I want to realize my dream of being an architect."
Xu Zhixiang, headmaster of the school, said: "The teenagers here are problem children who were expelled from ordinary schools and abandoned by their family. The education we provide here has brought happiness to many families in desperation. Registered institutes like us hope the government will help establish a trade association and strengthen supervision on the rehab sector, formulate regulations to standardize operation, and provide training for our personnel."
The hardships of growing up are inevitable and parents should be prepared to solve difficulties like Web addiction, added Bu Wei, director of the research center for children and the media at the Chinese Academy of Social Sciences.
"We cannot rush to resolve the problem of Internet addiction. It is not something that can be solved in a day," she said.

(China Daily 01/04/2010 page4)