The enterprising Hanwang people are rebuilding their lives since last year's earthquake.
Hanwang's clock tower stands frozen at 2:28 pm -- the moment the May 12 earthquake struck -- but times are changing for those who live in its shadow in Sichuan province's Mianzhu city. The clock has become an eternal icon of the 8.0-magnitude quake that claimed nearly 5,000 lives in the town and more than 70,000 region-wide a year ago.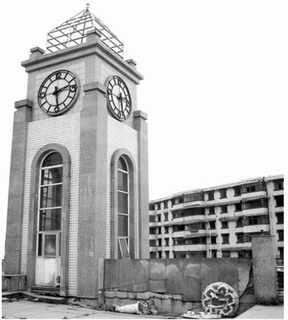 The now-iconic clock tower in Hanwang. At its foot lies a wreath honoring those who died in the earthquake. [Photos by Erik Nilsson/China Daily] 
People from all over the world gathered there to commemorate those who died when Hanwang shuddered and its buildings fell down. Propped up next to the tower is a wreath of flowers honoring the dead.
Survivors in the town are doing whatever they can to recover. A few dozen meters away, Zhu Ruiyu runs a stall selling "quake souvenirs", including small bronze statues of the clock tower. "I saw some other people selling them and realized there was a demand and I could sell them, too," she says. "It's a way to help outsiders understand and commemorate those who died."
Zhu says she was left with only 50 yuan ($7.3) after her family's apartment building and silk shop collapsed. The family used the money to invest in quake-related merchandise, such as books, DVDs and calendars. "Our four-story building collapsed in seconds. I ran outside because we lived on the first floor," Zhu says. "I went back to our old house and rummaged for something to sell. All we could find was some food, so we sold that."
The government is building her a new house but she hasn't seen it yet. "What's most important is my whole family is safe," she says.
For 72-year-old He Baiyuan, the loss has been far more traumatic: his first son, a local school teacher, and 8-year-old grandson. Seated on a wooden chair in front of his drooping apartment building on the other side of the clock tower, he says: "I cry every night when I think of them."
The old man's eyes tear up as he recalls the day of the quake. "They both died when the school collapsed," he says, waving his hand at the crag behind his block. "Five days after the earthquake we went to the school to dig for their bodies. We buried them behind the mountain."
Full coverage:


 Sichuan, One Year On...
Related readings:


  Healing wounds with hugs and tender loving care


 The house of hope Wang and Li built


 Students plan a memorial for earthquake victims


 One-year anniversary marked for earthquake


 The first Wenchuan Earthquake memorial park opened!


 Life resumes normal after last May's earthquake


 A memory dilemma in face of earthquake ruins
He moved back into the splintered structure after burglars stole some of the belongings he couldn't fit into his temporary house. "I'm here all day, every day," He says. "I can't leave. I have to protect our property." He is keen to move into a new house but doesn't know when that will happen.
"I hope the government will solve our problems soon. This isn't a safe house and if there's another strong aftershock, it could also fall."
He has good reason to worry - the building sank half a meter after the quake. His family has also had to grapple with job losses since the quake. His three surviving sons were employed at the Dongfangqilun machinery plant but now work in construction.
Three tourist buses pull up in front of his house but elicit no response. "There are a lot of tourists, especially at the weekend. We even had some from Canada but I have no feelings about them; we're all used to it," he says. "At night, though, almost everyone leaves and the place is like a ghost town."