Located in Guangyuan city of Southwest China's Sichuan province, the Jianmen Pass scenic spot, also known as Jianmen Guan, has set forth on an ambitious path to become a tourist hotspot again after last year's May 12 earthquake seriously affected the entire province's tourism industry.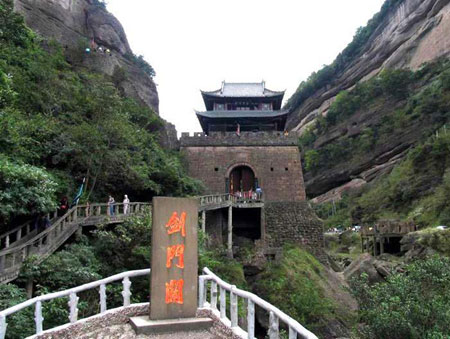 Jianmen Pass scenic spot [File photo] 
"We aim to build the Jianmen Pass into a Grade AAAA National Tourism Spot by 2010 and hope to upgrade it to Grade AAAAA,the highest level for a tourism spot in China,in the future," said Jing Mingyang, deputy director of the publicity department of Jiange county of Guangyuan city, where the Jianmen Pass is located.
Special coverage:

Sichuan, One Year On
Related readings:

Sichuan aims high to revitalize tourism industry

Quake tourism puts off locals

Tourism begins to revive in SW China's quake zones

China to join efforts for global tourism recovery
More than 300 million yuan will be invested in the Jianmen Pass scenic spot, which also includes an ancient town.
With the first-phase investment of 30 million yuan (US$4.4 million), the ancient town rebuilding project is expected to be finished by June 30 of this year. By then, there will be a pedestrian street, shopping centers and restaurants. In addition, buildings will feature the unique architecture style of the Han Dynasty (206BC-220AD).
Few tourists went there since last year's devastating May 12 earthquake. As the most important scenic spot in Guangyuan city, Jianmen Pass welcomed only 3,300 tourists in the first quarter of this year, down 936.29 percent from the same period last year.
"Although the infrastructure facilities of Jianmen Pass were not seriously destroyed...there are still many places where geological disasters could happen. So only Cuiyun Corridor and Liangshan Temple are open to tourists now," Jing told chinadaily.com.cn.
He said that the whole scenic spot is expected to be completely reopened within two years, adding that they would first reopen parts of the spot as soon as they get fixed.
As a result of the impact of the earthquake, tourism income of Guangyuan City also decreased by a sharp 50 percent in the first quarter of 2009 to 325 million yuan (US$47.7 million).
To revitalize the tourism industry, Guangyuan held a series of promotion activities in Chengdu, Beijing and Hangzhou in the last two months. Besides, during this year's May Day holiday, ticket prices of all scenic spots in the city were cut to only 10 yuan.
All these efforts paid dividends. Statistics from local tourism authorities show that tourist arrivals in Guangyuan increased by 32.55 percent during the May Day holiday compared with the same period in 2008.
The tourism spot will be open for free permanently to tourists from northeast China's Heilongjiang province, as the province is designated by the central government to provide help to Jiange county.
Tourists can also enjoy the extraordinary "tofu banquet",or bean curd banquet,in Jianmen Pass. More than one hundred different types of exotic dishes made with local tofu are served daily at restaurants in the scenic spot. Nowadays, Jianmen tofu has become another symbol of the Jianmen Pass, together with its steep slopes and Three Kingdoms period culture.
As the traditional Chinese saying goes,"If one man guards the pass, ten thousand are unable to get through". Jianmen Pass is one of the most important gateways to Sichuan. Several famous battles in the Three Kingdoms period (Wei, Shu and Wu, AD 220-280) happened there, making it a well-known tourist attraction, with characteristics of the Han and Three Kingdoms period culture.