Ahead of the one-year anniversary of the 8.0-magnitue earthquake, southwest China's Sichuan province, once a tourist hotspot for both domestic and overseas tourists,has endeavored to rejuvenate its tourism industry shaken by last year's May 12 earthquake.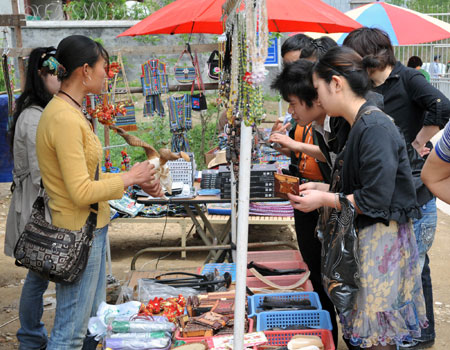 Tourists select souvenirs at a market stall near the old Beichuan County, Mianyang City, Southwest China's Sichuan Province, May 1, 2009. [Xinhua]
As part of the measures, local authorities in Sichuan launched the unprecedented "price lowland" policy in late March offering considerable discounts to tourists from home and abroad for visiting scenic spots in the province.
Full coverage:


 Sichuan, One Year On
Related readings:


 Quake tourism puts off locals


 Tourism begins to revive in SW China's quake zones


 Sichuan receives US$2.3 b in quake donation


 Sichuan earthquake claims new victim
"We set the goal of 2009 tourism income at 120 billion yuan (US$17.5 billion)," said Sichuan Tourism Bureau in an interview with chinadaily.com.cn.
The number hit 109.2 billion yuan (US$15.9 billion) last year, down 10.3 percent from 2007.
Most of the province's tourism spots, including the world famous Jiuzhaigou, Mountain Emei and the Giant Buddha in Leshan City, will be open to visitors for free on May 12, the one-year anniversary of the earthquake. These tourist attractions will also be discounted by 50 percent during other days in May.
In the provincial capital of Chengdu, 15 million tourism cards, also known as "Panda Cards", at a cost of only one yuan each, have been distributed to people outside Sichuan province, attracting tourists to visit up to 11 tourist attractions. The Panda Card was widely used during the recent May Day holiday.
Statistics form Sichuan provincial tourism authorities show that during the May Day holiday, the province received as many as 9.37 million tourists, a year-on-year increase of 14.4 percent, with the total income amounting to 2.88 billion yuan (US$422 million).
Among the visitors, about 50 percent used the Panda Card. "In my group, only 10 percent, or 3-4 tourists, had to buy tickets, while others all had the Panda Card," said Xia Jiao, a tour guide with the Chengdu branch of China International Travel Service.
"Quake ruins tourism" has also become more and more popular in the province, which not only helps boost the tourism industry, but benefits local residents as well. During this year's Spring Festival Holiday, quake ruins tourism brought 1.87 billion yuan (US$274 million) to Sichuan, accounting for 40 percent of the province's total tourism income during the holiday. Donghekou Earthquake Relics Park, the first of its kind to commemorate last year's May 12 earthquake, has welcomed more than 250,000 tourists since it opened last November.
Tourism has also offered many jobs to quake survivors who work as vendors, street cleaners, security guards and operate their own restaurants and inns.