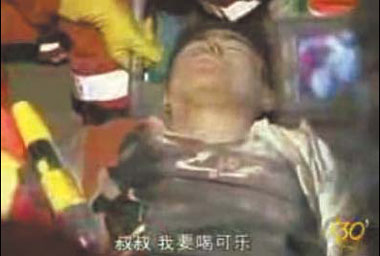 Xue Xiao tells his rescuers that he wanted a cola when he was rescued after 80 hours under the rubble on May 15, 2008. [CCTV}
Teacher Huang said Xue was repeating Year 11 because he was away from school for so long after the disaster, and that catching up was proving a difficult task.
"Our English classes are completely taught in English. Xue cannot understand them at all," Huang said.
"He's got a long and arduous road ahead if he wants to pass TOEFL in a year."
In order to assist the teenager, the school has provided Xue with three private English tutors. Xue, on the other hand, believes he is making rapid progress: "I'm confident of passing the test," he said.
In the future, he wants to major in finance at university and become a businessman like Hong Kong property tycoon Li Ka-shing. Businessmen who donated money to reconstruction efforts have also inspired him.
"I'll come back to China if I study abroad," he said, adding that he would like to work in Beijing or Shanghai.
Reflecting on the past 12 months, Xue is philosophical: "It seems that all the things that happen in one's lifetime were squeezed into mine in a year."
Every month he visits his parents, who also survived the earthquake and continue to work in Hanwang.
He is also in close contact with former classmates who escaped in the disaster. They refer to him by his old nickname "Xiao Ge", meaning "Big Brother Xiao".
"You may see me as a public figure, but in the eyes of my classmates, I'm still me," he said.
"He can play basketball with his left hand now, and he plays good badminton and table tennis as well," Xue's classmate Wang Lingjuan said.
On the one-year anniversary, Xue will return to Hanwang to pay respects to friends who died in the earthquake.
Later that same day, he will travel to Deyang to attend the wedding ceremony of Chen Yan, one of the volunteer rescuers who saved his life.
"I think Uncle Chen decided to get married on that very day because he wants to bring people more happiness and hope," Xue said.
"The earthquake is a thing of the past. We should look more to the future."