After being trapped for 80 hours underneath the rubble of a school building, Xue Xiao uttered two sentences that he has been reminded of every day since the Sichuan earthquake.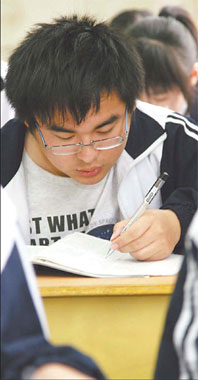 Xue Xiao, struggling for a new identity apart from "Cola Boy", has learned to write with his left hand. [CFP] 
"I want to have a cola. I want to have an iced one," he told rescuers in comments broadcast to millions of people around China, and instantly earning him the nickname "Cola Boy".
Today, the 18-year-old is impatient with the repeated questions of journalists about cola and is desperate to continue his life away from the public spotlight.
"I've talked too much about it," Xue said recently as he sat in a classroom at Chengdu Experimental Foreign Language School (CEFLS), where he now studies.
"I'm actually not that fond of cola," he said, and emphasized that it was thirst that made him request the beverage that he often drank after playing sport.
His teacher Huang Yong said the teenager was exhausted by the constant attention, but that he has so far kept his coolness.
"When asked about something he doesn't want to answer, he just remains silent and pretends he's thinking," Huang said.
Indeed, when asked by China Daily how he felt about his Cola Boy fame, Xue remained silent.
Wu Guangzhi, vice-president of the school, said Xue is interviewed on almost a daily basis and spends most of that time answering the same questions.
"It's harming Xue. We're afraid more of these interviews will make the boy lost," Wu said.
Regardless, Xue has been offered many colas since he was rescued from the debris of Dongqi Middle School in Hanwang township, Mianzhu city, on May 15 last year - three days after the 8-magnitude earthquake rocked Sichuan province.
He became a walking advertisement for Coca-Cola, which paid for an artificial limb after his right arm was amputated. It gave the teenager tickets to Beijing Olympic events, but also placed him on stage during PR events during the Games, at which it was a major sponsor.
In the meantime, Xue has continued to piece his life together. He has learned to become left-handed and said he studies for about 15 hours a day, including 3 to 4 hours on English, his weakest subject.
"I've got used to having only one arm," he said. "I have no problem taking care of myself and now I can even finish writing exam papers on time."
Last June, Xue was named alongside 29 other boys and girls as an "outstanding youth" at a ceremony in Beijing for the courage he showed in the aftermath of the earthquake.
In addition, he has traveled to the US cities of Washington DC, New York, Orlando and Melbourne at the invitation of a Chinese American.
He said he enjoyed Melbourne, Florida, because of the blue sky, plants and sunshine. The American people were very friendly, but the country was "a bit different" from what he had imagined, he added.
"Before I went, I thought all places in the United States are like Manhattan, with a forest of skyscrapers," he said.
"But as it turned out, many buildings there aren't like that at all."
The Florida Institute of Technology has said it would offer Xue a full scholarship if he passes the TOEFL examination after high school.
Meanwhile, CEFLS, his current school, has waived all tuition and living fees, which total about 30,000 yuan (US$ 4,399) per year.