Li Yue became known at home and abroad as the "Ballet Girl" after she performed a "hand ballet" in a wheelchair at the opening ceremony of the Beijing 2008 Paralympic Games last September.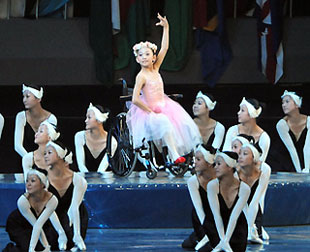 Li Yue (C) stages a ballet performance with one hundred disabled dancers circling her at the opening ceremony of the Beijing 2008 Paralympic Games at the National Stadium known as Bird's Nest, September 6, 2008. [CFP]
The young amputee, wearing a red ballet shoe on her right foot, took center stage that night. Without impassioned leaps and stunning pirouettes, she moved the audience with her amazing performance and endless ballet dream.
Before the earthquake last May, Li Yue was a promising ballet student who dreamed of becoming a ballerina as she studied at Qushan Primary School of Beichuan county, southwest China's Sichuan province.
But the devastating May 12 earthquake that left over 80,000 people dead or missing destroyed her homeland and her ballet dream. Li Yue had to have her left leg amputated by rescuers in a bid to be removed from the rubble after being trapped for 77 hours under the collapsed school building.
The fragile girl drank almost a bottle of vinegar before the amputation surgery, and survived the agony with bravery and perseverance. She was the only survivor of her class.
School life vital for her change
Perhaps the agony and pain that Li suffered made her more determined, for she refuses to let go of her ballet dream.
She has made great progress in her studies and in her psychological recovery since she came to Beijing Primary School on February 19, 2009, according to her teacher, Xu Yi.
"It's a big challenge for Li Yue to find herself again in a new environment," said Xu. But Li Yue made it through with her "unremitting effort" and by "studying at home and completing her homework very carefully."
Her relationship with her classmates is another vital thing that has changed her from a formerly depressed new comer into a happy young girl. "We all like her and she is such a nice person," said Zheng Zhuohan, one of Li's friends. "Students in my classroom get along well with her, treating her no differently."
To make Li's move more convenient and school life less troublesome, Zheng, together with other classmates and teachers, even formed a special voluntary team — "Li Yue Assistance Team" — taking turns to push her wheelchair and carry crutches for her.