When 12-year-old Li Yue sings along to a Chinese pop song, jumping back and forth with her right leg, few people would associate her with the heartbreaking earthquake that sacrificed one of her legs and claimed more than 10 of her family members in southwestern China a year ago.
She is now studying in her fifth year at a Beijing primary school and lives with her divorced mother in a rented apartment 200 meters from her school. They moved to Beijing one month after the earthquake for extended rehabilitation for Li's amputated leg, arranged by the China Disabled Persons' Federation.
Not an average Beijing school child, Li Yue has to strive for her ballet dream with just one leg under public attention as the Paralympic performance she participated in brought her fame, spotlight as well as weariness.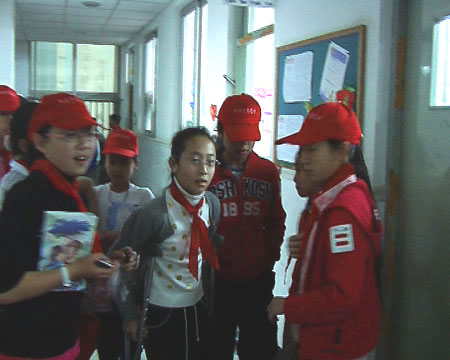 Li Yue (C) walks with a pair of crutches in the corridor outside her classroom after lunchtime on April 23, 2009.  [chinadaily.com.cn] More photos 
Li has to study harder at school to catch up on lessons she has missed. She is frequently engaged in social activities and media exposure after class, yet still practices dancing everyday and attends rehabilitation training every weekend.