GUANGZHOU: Some 30,000 lucky people in Guangdong province will get coupons that will entitle them to visit two popular tourist spots in Sichuan province free of cost throughout their lives, a travel agency here said yesterday.
The administration of Qingcheng Mountain and Dujiangyan tourist area in Sichuan has asked the Guangzhou-based Western Holiday travel agency to distribute 30,000 coupon cards in Guangdong, Zeng Yi, a Western Holiday spokesman, told China Daily.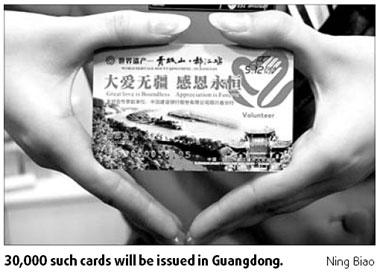 "People holding the coupons will be eligible to visit the two tourist locations in Sichuan free of charge as many times as they like for the rest of their lives," Zeng said.
The coupons, named "5/12", are being distributed to mark the first anniversary of the massive May 12 earthquake, which left more than 60,000 people dead and thousands of Sichuan families homeless.
Related readings:


 Coupon proposal stirs online controversy


 E China city to launch second coupon package


 Mixed feelings on coupon system
According to the rules, the coupons are non-transferable, and only those who receive the cards will be eligible for the free visits, Zeng said.
The Western Holiday travel agency will give five coupons to each enterprise that has donated between 1,000 yuan ($146) and 5,000 yuan to the quake-ravaged province, and 10 cards for each firm that has donated between 5,000 yuan to 10,000 yuan.
Any enterprise, which has donated more than 10,000 yuan, either in cash or other materials, will be given 20 coupons each, Zeng said.
He added that individuals who have donated more than 300 yuan for Sichuan province are also eligible to get the coupons.
"And those above the age of 60, below 18 or disabled, who might have donated less than 300 yuan, are also eligible for selection," he said.
Zeng said those interested in availing the coupons can walk into any of the Western Holiday outlets in Guangdong province, along with "any document that proves the amount they donated".
The coupons will be distributed on a first come first serve basis, Zeng said. He, however, did not specify when the agency will begin distributing them.