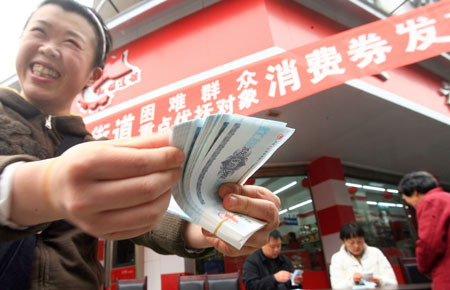 A community worker counts consumption coupons handed out by the local government in Chengdu, Sichuan province, on Dec 15. [China Daily]
A year after Zhang Yin, one of China's richest women and a Chinese People's Political Consultative Conference (CPPCC) member, sparked controversy with her provocatively pro-rich proposals, another wealthy delegate has stirred up fresh online debate with a scheme favoring the poor.
Liu Hanyuan, one of China's most affluent men, said the government should provide every citizen annual coupons worth up to 4,000 yuan ($584).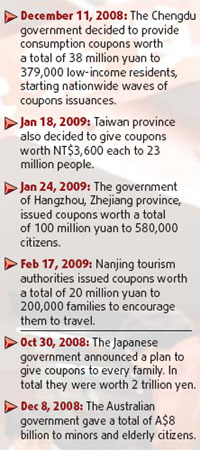 The move would encourage domestic consumption during the economic downturn, he said.
Heated online discussions, mostly supporting Liu, began with posts on major Web portals, discussion forums, blogs and podcasts.
"It is about time we, the common people, get to enjoy the benefits of the reform and opening up," a typical Web posting read. "We should all support Liu."
Chinese netizens are unaccustomed to supporting proposals from the rich, whom they believe too often push self-serving policies. Liu is an unlikely candidate to become an online opinion leader.
The 44-year-old from Sichuan has made the Top 100 Hurun China Rich List for three years. He is president of the country's largest fish-feed producer, Tongwei Group.
Liu proposed giving every citizen a 1,000-yuan coupon at the end of March, and again during China's three longest holidays - May Day, National Day and Spring Festival. All coupons should be used within a month, he said.
Since January, some prosperous coastal cities have already started handing out millions of yuan worth of coupons to the public.
Zhejiang's provincial capital Hangzhou will issue 850 million yuan worth of coupons nationwide, including in Hong Kong, Macao and Taiwan, the city's mayor and National People's Congress (NPC) deputy Cai Qi said.
The city has already distributed 100 million yuan worth of shopping coupons to local low-income families. Shanghai residents reportedly stormed a local bank, where Hangzhou officials gave out 9 million yuan worth of tourism coupons on Sunday.
At least 10 mainland cities, including Chongqing municipality and Chengdu in southwestern China, Shenzhen in the south and Nanjing in the east, have issued coupons to stimulate spending.
About 91 percent of netizens supported the coupon policy, a Shenzhen News Net survey found last month.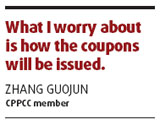 But netizens also voiced concerns about the scheme. Some feared the coupons' values might be directly deducted from their salaries.
Many businesses believed allowing designated stores to cash the coupons would be unfair to those that could not.
Others insisted education and medical costs had to be lowered before any real domestic consumption boost became viable.
Many other NPC deputies and CPPCC members also voiced doubts.
"I think it's an image project," CPPCC member Sun Jianfang said.
"High-income people don't need the money, and the poor might not use the money if it had to come from their own pockets."
Session member and Chinese Academy of Sciences scholar Rong Jiayu agreed, saying: "The point is not to just hand out money or coupons, but rather, to ensure all levels of government always prioritize the common people."
CPPCC member and PricewaterhouseCoopers China partner Zhang Guojun said: "What I worry about is how the coupons will be issued ultimately, I believe the key is systematic reform to boost social security investment. Issuing coupons is only a temporary solution with limited long-term impact."
Some leading scholars, such as prominent economist Mao Yushi, advocate coupons and urge immediate action.
The Ministry of Commerce (MOC) is "closely tracking" the impact of the coupons already issued, but there are no plans yet for nationwide implementation, MOC chief Chen Deming said on Tuesday.