The US' signing of the ASEAN Treaty on Amity and Cooperation is not only a symbolic underscoring of its commitment to Asia, but a move to balance China's influence in the region, analysts said.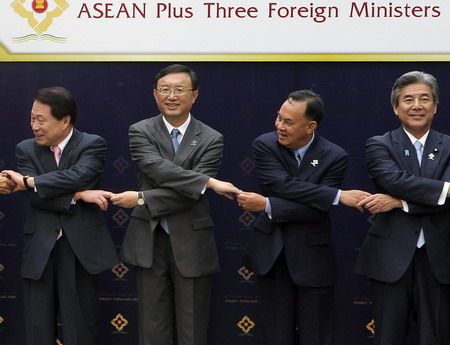 Foreign Ministers join hands on stage as they pose for a group photo at the start of the Association of South East Asian Nations (ASEAN) Plus Three Foreign Ministers Meeting in Phuket July 22, 2009. Pictured from left to right are South Korea's Foreign Minister Yu Myung-hwan, China's Foreign Minister Yang Jiechi, Thai Foreign Minister Kasit Piromya and Japan's Foreign Minister Hirofumi Nakasone. [Agencies]

"Sino-US relationship is always featured by cooperation and competition, and the Southeast Asia issue is just part of the latter," said Ma Zhengang, president of the China Institute of International Studies, adding that balancing with China is "part of the reason" for Clinton to sign the treaty.
Related readings:


 China economy can grow 8% this year: FM


 Clinton declares US is back in Asia


 Terrorism, rights on agenda for ASEAN ministers


 China, US to hold 1st strategic and economic dialogue


 ASEAN, China friendly organizations conference to be placed
But he did not think the US move is against China. "Washington has long been trying to expanding its influence in the Asia-Pacific region," he said.
The US signing of the treaty "is just a political posture", said Pang Zhongying, an international relations expert at Renmin University of China.
"Developing relations with Southeast Asian countries was a neglected issue during the Bush administration," Pang said, adding that the move would not disturb Sino-US relations as both countries have more important things to do such as tackling the economic crisis and global warming.
China's growing economic clout and huge market make it an important participant in ASEAN meetings, but tensions persist, especially over competing claims in the South China Sea, the shortest route between the Pacific and Indian Oceans.
Last year, trade between the US and Southeast Asia was $178 billion, while cumulative American investment in the region is around $100 billion. China-ASEAN bilateral trade is worth $231.1 billion, with two-way investment around $60 billion.
Asked in Bangkok yesterday if Washington was trying to balance China's rise, Clinton said: "... The more we involve China in the work we are doing and in organizations like ASEAN, the more opportunities we have to create a positive framework."
"Now, I know that a lot of China's neighbors have expressed concerns, so we want to strengthen our relationships with a lot of the countries that are in East and Southeast Asia. But what we hope is that we all can work together and that China remains focused on raising the economic well-being of their people and competing in the market place."
China Daily - Reuters