Crisis and protectionism always come together, but US companies need to be treated fairly in China, US Commerce Secretary Gary Locke told China Daily in an exclusive interview Wednesday.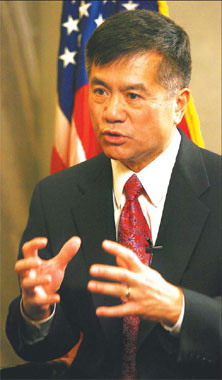 US Commerce Secretary Gary Locke gestures during an interview with China Daily Wednesday. [Photo by Zhang Wei/China Daily] 
For instance, he pointed to occasions in which the distribution of Chinese stimulus money was limited to Chinese companies making goods in China.
While the central government's policy does not actually include those restrictions, Locke said local government officials sometimes interpret the rules this way and end up hurting US companies and the Chinese workers they employ.
While it is natural that most countries will favor domestic production in an economic recession, Locke said: "We just want to make sure there is a level playing field for the US companies to compete (in China)."
Locke said this includes stronger intellectual property protection, which would help encourage innovation both within and outside China's borders.
He also said that it was important to help US companies better share their technology, products and services with Chinese companies to help them develop more modern, environmentally friendly policies and goods.
During the interview, Locke downplayed questions about US trade protectionism, saying the number of anti-dumping cases filed by the US against China this year is about the same as in 2008 and 2007.
Related readings:


 US commerce, energy secretaries highlight co-op with China


 Locke: Anti-dumping cases not indications of US policy


 Locke likes fixing the plumbing


 US Commerce Secretary: US, China must lead on clean energy


 US Commerce Secretary in Beijing
Moreover, he pointed out, the anti-dumping cases were all filed by individual US companies, not the government, and were therefore not indications of official US policy.
Locke acknowledged that it could be difficult to find the right balance between free trade and protecting domestic companies, especially in tough economic times.
As a result, he said, it was especially important to "make sure the competition is fair, even, and level."
In recovering from the financial crisis, much opportunity lies ahead for China and the US in the development of green business, Locke said.
China and the US must take leading roles in clean energy development and in fighting climate change, he said.
"It is important for China and the US to work together to become the leaders of the entire world for clean energy, energy efficiency and fighting climate change."