China and the US must take leading roles in clean energy development and fighting climate change, US Commerce Secretary Gary Locke said today in an exclusive interview with the China Daily.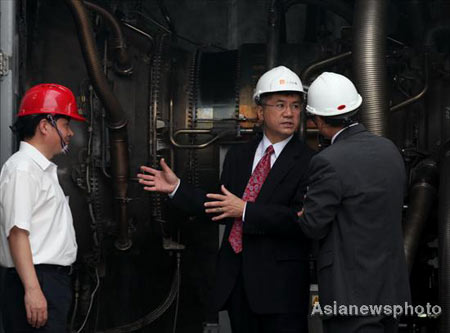 US Commerce Secretary Gary Locke (C) visits a clean-power company at the Beijing Economic and Technological Development Area, Wednesday, July 15, 2009. [Asianewsphoto]
Full Coverage:

US Officials' China Connection
Related readings:


Locke likes fixing the plumbing


Locke: Anti-dumping cases not indications of US policy

Gary Locke urges level playing field for US firms


Steven Chu: US ready to lead on climate change


US-China dialogue set for July 27-28

Clean energy to top Sino-US talks


US cabinet chiefs on energy trip


 Profile: Gary Locke
While he did say that it was fair to criticize the US and other developed countries for their reliance on fossil fuels that have already hurt the environment, he also emphasized the importance of cooperation between the US and China on environmental issues.
"It is important for China and the US to work together to become the leaders of the entire world for clean energy, energy efficiency and fighting climate change," he said. After all, he noted, the two countries will produce more greenhouse gas emissions in the next 50 years than the past 150 years combined.