Stronger Sino-US cooperation on clean energy will be the goal of two US officials who will be visiting China this week.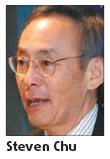 US Commerce Secretary Gary Locke and Energy Secretary Steven Chu will be in China from Tuesday to Friday.
The two countries are planning to discuss building a Sino-US clean energy center during the two secretaries' visit, a source told China Daily.
It would be the first nation-level center between China and the US to promote the use of clean energy, he said, asking not to be named.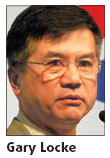 The US Commerce Department earlier said the two secretaries will highlight the potential for mutually beneficial relationships in the clean energy sector.
China and the US have made great progress in cooperation on the clean energy sector. There will be opportunities for American green technology companies to fill a critical need in China, a win-win for both countries, Locke said in a statement on the visit.
Clean energy will drive the economy of the future, both in the US and around the world, said Chu in the statement.
Related full coverage:


US Officials, China, Chinese
Related readings:


 US cabinet chiefs in China next week on energy trip


 Kerry: China-US clean energy talks productive


 Green energy attracts investors


 China considers higher renewable energy targets


 US wants to paint the world white to save energy
"It's in our interest and China's to explore ways to cooperate for our mutual benefit - by promoting renewable energy, encouraging energy efficiency and cutting pollution," Chu said.
Priorities would include clean coal technology, carbon capture and storage, a smart grid, hybrid and electric vehicles, energy efficiency and renewable energies, said Yang Fuqiang, director of global climate change solutions at the World Wildlife Fund for Nature.
A report from the Center for American Progress, a US think tank, has proposed a joint carbon capture and storage program, which would include geological assessment and demonstration projects in both China and the US, as the two countries would share an abundance of coal reserves and a similar reliance on coal as a major energy source.
China and US both face "great challenges and opportunities in clean energy use," said Dennis Bracy, chief executive officer of the US-China Clean Energy Forum.
"The two countries have much to gain by working together on improving energy efficiency and curbing pollution."