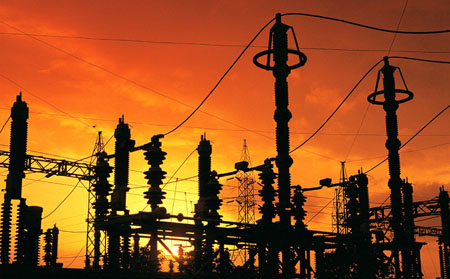 This undated file photo shows a section of the ultra high-voltage power transmission network of the state grid in Beijing [Xinhua]

After oil and nuclear power, what will the next big thing be in terms of Sino-Russian energy cooperation?
The answer might just lie in electricity trade. The two countries are poised to expand their electricity transfer program as a move to enhance energy security, said industry insiders.
As the world's two major energy consumers and producers, China and Russia are planning to build several power transmission lines across their borders. This would involve investments of "multi billion yuan", said an official familiar with the project who asked not to be named.
Currently, there is no technology barrier in building such projects. And domestic companies are collaborating with foreign power giants such as Areva for feasibility studies on some electricity lines, said Hu Xuehao, an expert with China Electric Power Research Institute.
Sources with China's largest grid company, State Grid, yesterday said that the company has finalized a long-term power supply deal with Russia. Under the agreement, Russia will transfer 3.6-4.3 billion kWh of power to China in 2008-10, 18 billion kWh in 2010-15, and 60 billion kWh from then on.
Special coverage:

SCO & BRIC Summits
Related readings:


 China reports record daily power generation in early June


 Power projects halted on environmental concern


 China's power generation drops 3.5% in May


 China may soon revise power goal

 Power output dip seen for April
State Grid Vice-President Shu Yinbiao earlier said that besides Russia, the company is also in talks with countries like Mongolia for importing power.
Moscow and Beijing have long discussed electricity trade. In the mid-1990s, they discussed a project to build power transmission lines from the Irkutsk region in Siberia to China. However, they failed to agree on pricing and abandoned the project during the Asian financial crisis period when domestic power demand was weak, said Hu of the China Electric Power Research Institute.
However, buying more electricity from Russia now was a reasonable way for China to meet its surging power demand. Although the country's power demand has been affected by the economic downturn since the fourth quarter of last year, in the long run it will see a rapid increase, he said.
According to China Electricity Council, the country's power consumption will grow by 5 percent in 2009.
In the face of an economic downturn, more exports to China are understood to be a good deal for Russian power suppliers because domestic demand is declining, said analysts.
The Russian media reported that the economic downturn has been adversely affecting the expansion of Russia's energy sector. Insiders have predicted a 4.5 percent decrease in Russia's overall power consumption in 2009. Subsequently, Russian energy companies are expected to have surplus capacity to export electricity.