A life-size stuffed tiger kept on the side of a road in Shaoxing, Zhejiang province, scared not just a villager but also the police last Wednesday.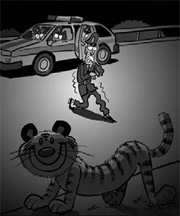 A villager mistook the stuffed toy for a real tiger when he saw it sitting on a lawn in Mengchang village and phoned the police.
Four officers arrived on the scene but refused to get out of their vehicle.
When they noticed the tiger hadn't moved an inch in a while, they stepped closer to it and realized it was a stuffed toy.
(Qianjiang Evening News)