Another spacecraft launch likely in 2010 to prepare for space lab
China plans to launch Chang'e-2, the country's second lunar probe, at the end of 2010, space authorities announced yesterday.
The design and production of Chang'e-2 is complete, and the lunar orbiter is undergoing ground tests, the State Administration of Science Technology and Industry for National Defense said yesterday in a news release.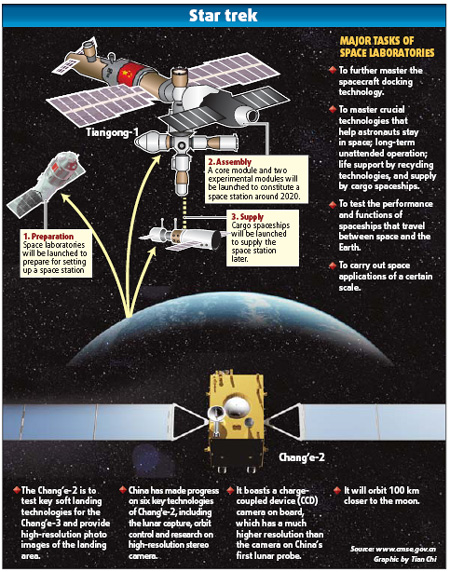 Chang'e-2 is expected to test the soft-landing technological capability for the Chang'e-3 and provide high-resolution images of the landing area, the administration said.
"Progress on six key technologies of Chang'e-2 has been made, including the lunar capture, orbit control and research on high-resolution stereo camera," the administration's spokesman said.
Ye Peijian, chief designer of the nation's first lunar probe, had told China Daily earlier that the launch was expected in October.
The administration said that Chang'e-3, the country's lunar lander and rover, is also well on the way toward liftoff. The project is now in the prototype stage.
Chang'e-2 and Chang'e-3 are part of the second phase of the country's lunar exploration program, which consists of three stages - "orbiting", "landing" and "returning".
Ye said earlier that Chang'e-3 is likely to be launched before 2013. The country's first lunar probe, Chang'e-1, was launched in October 2007 and ended its 16-month mission on March 1 this year.
Meanwhile, China's manned space project is also likely to see a breakthrough next year, a top scientist said.
Qi Faren, chief designer of the Shenzhou spacecraft, told Guangzhou Daily on Sunday that Tiangong-1, or Heavenly Palace-1, a spacecraft that will test docking technology and prepare for the future construction of space laboratories, will be launched by the end of next year at the earliest.
Related readings:


 China to take next leap in moon probe


 Moon talk before China's moon walk


 China may set up moon base camp by 2030

According to the official website of China's manned space program, www.cmse.gov.cn, the launch date of Tiangong-1 is set between late 2010 and early 2011.
Within two years of the launch of Tiangong-I, China will launch Shenzhou-VIII, Shenzhou-IX and Shenzhou-X spaceships, to dock with Tiangong-1, the website said.
Two space laboratories, Tiangong-II and Tiangong-III, will follow, and China aims to build its own space station by the year 2020, the website said.
China became the third nation - after the US and Russia - to send people into space when Yang Liwei went into orbit aboard the spaceship Shenzhou-V on Oct 15, 2003. Three other astronauts were sent to space in Shenzhou-VII and carried out the country's first space walk in September 2008.
Shen Liping, deputy chief designer of China's manned space program, was quoted by Guangzhou Daily as saying on Sunday that China's first woman astronaut will be able to fly to outer space sooner than the targeted 10 years.