HONG KONG: Construction of the 50-km Hong Kong-Zhuhai-Macao Bridge, expected to be the world's longest sea bridge, kicked off in Zhuhai of Guangdong province yesterday.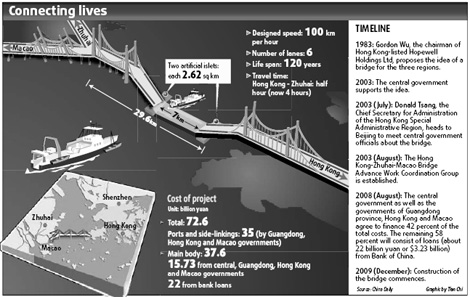 Vice-Premier Li Keqiang, among several other top officials including Chief Executive of Hong Kong Special Administrative Region (SAR) Donald Tsang, the Governor of Guangdong province Huang Huahua, and Chief Executive of the Macao SAR Edmund Ho, was present at the ceremony to commence construction of the project, which is expected to be completed by 2016.
Zhang Xiaoqiang, the deputy director of the National Development and Reform Commission, the country's top economic planning body, said the commencement marked a step forward in China's plan to boost its transport infrastructure.
Related readings:


 China begins construction of HK-Zhuhai-Macao bridge


 Construction of HK-Zhuhai-Macao Bridge begins Dec 15

 Construction of Hong Kong-Zhuhai-Macao Bridge to begin

Zhang said he believes the bridge will help boost development on the west side of the Pearl River.
"Through a more convenient and fast transport network, Hong Kong's finance, tourism, trading, logistics and professional services can better reach the west of the pan-Pearl River Delta area," Tsang said at the groundbreaking ceremony.
The bridge is expected to reduce travel time between the west side of the Pearl River and Hong Kong to three hours.
It will take only 20 minutes to cover the distance between Hong Kong and Macao, Tsang said.
Tsang added that no efforts would be spared to maximize the economic benefits of the project, including keeping toll charges as low as possible to encourage people to use the bridge.
The Y-shaped bridge is being built at a cost of more than 72 billion yuan ($10.54 billion).
The project is financed by the central government together with the regional governments of Hong Kong, Macao and Guangdong. The main 35 km of the bridge include a 29.6-km oversea pass and a 6-km harbor tunnel under the South China Sea. Two artificial islands will connect the tunnel and bridge on either side.
Reclamation projects to create the artificial islands in Macao and Zhuhai ports are part of the first phase of construction.
Each city will have a port, which its own government will build.
"The Hong Kong SAR government is making every effort to promote the project, in the hope of completing it at the same time as the main bridge," Tsang said.
Some 50 million yuan has been budgeted for landscaping, which includes the addition of sightseeing areas for tourists to enjoy the spectacular view of the South China Sea and white dolphins cruising nearby.
The six-lane bridge is expected to remain in good shape for up to 120 years.