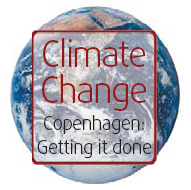 In the days leading up to his flight this week to Copenhagen, Premier Wen Jiabao has been on a marathon telephone diplomacy with major global leaders, a key indicator that the nation is "vigorously" pushing for a climate change treaty at the United Nations conference.
Full Coverage:


 Summit in Copenhagen
Related readings:


 China raps sidertracking at Copenhagen summit


 China sees growing share in clean energy


 China calls on rich nations to deliver on climate pledges


 China warns rich nations against 'shirking responsiblity'


 China's Sun King dreams of a green future
With the Chinese delegation negotiating at the Danish capital, the premier's last-ditch efforts make up China's two-front push to coordinate stances between international players and gain consensus on global warming.
Yesterday, Wen spoke over the phone with South Africa's President Jacob Zuma after the premier exchanged views with UN Secretary-General Ban Ki-moon on Friday.
Beginning last Tuesday, the premier spoke with five other major leaders in separate phone conversations over climate change.

"Premier Wen's busy climate-related schedule is a gesture to show that this country is vigorously trying to get positive results from the summit," said Huang Shengchu, president of China Coal Information Institute.
The premier did not, however, speak with United States President Barack Obama, though experts said he may do so before arriving in Copenhagen on Wednesday night.
Wen is scheduled for the final two-day summit of leaders, which Obama is slated to attend.
On Friday, Wen also visited the China Meteorological Administration, which celebrated its 60th founding anniversary.
The premier urged China's leading scientists to extensively research the impact of climate change and appealed for more substantial scientific evidence to back China's claim of the significance of its carbon reduction target.
Late last month, the nation set a new target of a 40-45 percent reduction in carbon intensity between 2005 and 2020.
Huang said that Wen's busy schedule demonstrated that China is willing to exchange views, take collective actions and share responsibilities with other nations.
All the leaders Wen spoke with have expressed willingness to enhance coordination and cooperation to deal with climate change, according to a Xinhua report.
Chi Fulin, professor and president of China Institute for Development and Reform, said China has the responsibility to urge all nations to reach consensus on climate change and set an agreement as soon as possible while it takes serious reduction actions at home.
"This (Wen's telephone diplomacy) shows that China is fulfilling its global role and trying hard to achieve a deal fair to every party involved," said Chi.
Ban, the UN chief, spoke highly of China's efforts in reducing greenhouse gas emissions and applauded its recently announced carbon emissions targets. He said China's announcement was a major contribution to the international cooperation on climate change. He also said the UN is willing to strengthen cooperation with China to make Copenhagen a success.
Experts explained the absence of phone conversations between Wen and US officials as one of timing and conditions. Chi said Chinese leaders will eventually hold talks with their US counterparts, but "such diplomatic arrangements will occur when the timing is right."
Huang said Wen did not speak with US leaders because he wants to put pressure on the biggest historic carbon emitter.
Tao Wenzhao, a US studies expert at the Chinese Academy of Social Sciences, said that during Obama's recent visit to China, the two countries already exchanged views on the climate issue.
"So it's not necessary to make phone calls this time," said Tao.
But Tao said there should be more heated negotiations this week after all parties at the summit have presented their views during the initial stages of the two-week conference.
"It's possible that China and the US will further communicate with each other before Wen and Obama meet in Copenhagen," said Tao.