Rolf Gesen, a Berlin-based film archivist who teaches at Beijing Communication University, attributes the failure to students who are too obsessed with technology and influenced by Japanese anime.
"(The animations) are just like junk food," he laments, "without roots in their own culture or emotional exchange ... the roles tend to be wooden, which makes it difficult for audiences, domestic or international, to identify with."
Stella Chou, managing director of China business development for Harper Collins, is more lenient. She says China's cartoons and animated works are "more suitable for children, while on the international market the target audience is mostly adults."
I don't know when the explosion in animation started in China, but I look around and there are festivals and conferences galore. Can you call it a "boom"? On the surface it appears to be. But like many things in China, it is artificially inflated. Sometime in the past decade, people, including the government, realized that animation is big business. Central government launched drives, local governments dangled incentives and capital flowed like red wine at a party.
The only caveat is, nobody is buying. Most TV stations do not pay for such programs. If the major companies do pay, the fees are so minimal it's not even worth the producers flying to Beijing to make a deal.
This leaves just one way forward. Use television exposure as a promotional tool, like Hasbro did in the late 1980s when it offloaded without charge some Transformer series to Chinese TV channels. It recouped its investment by selling toys at astronomical prices. But those who follow this route are ambushed by bandits, who snatch earnings by illegally associating their names with a hit show, or selling pirate products.
My daughter is a big fan of Pleasant Goat and we have bought her boxes of toys. We don't deal with sidewalk vendors because we know the goods are not genuine. But there is a spectrum to counterfeiting, ranging from the shoddiest products to identical goods. One of my counterfeiter friends says sometimes they use better materials than the real thing, thus confusing buyers.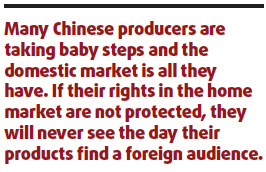 The best way for the government to promote the country's creative industries is to crack down on piracy. Hollywood often raises its voice about being victimized in China. Truth be told, Hollywood is probably the least affected since there is a quota system for China's importation of Hollywood films.
Many Chinese producers are taking baby steps and the domestic market is all they have. If their rights in the home market are not protected, they will never see the day their products find a foreign audience.
The sudden closure of BT websites where copyrighted materials used to flow freely suggests a determination on the part of the government to take intellectual property rights seriously. Unfortunately it still tends to lump unlicensed material with pornography. The underlying logic goes, this kind of stuff is bad for us, so we should ban it.
The right reasoning should be, it does not matter whether the material is beneficial or detrimental, as long as it is not legally obtained, it should be outlawed.
Much of the news coming out of the 2009 International Cultural Industries Forum was encouraging. China's film industry is expected to reap 6 billion yuan ($879 million) in box office receipts this year. A decade from now, this number may go up to 30 billion, according to some forecasts.
Movie tickets in China are not cheap and people pay the price of a good restaurant meal to get a movie-theater experience, which cannot be replicated with a pirated disc. If the government kicks serious ass in dealing with online and offline pirates, China's creative industries may well have a future that's worth the feel-good ending of a typical blockbuster.